Associate Professor of Religion Jon Baer's Oct. 22 Chapel Talk challenged Wabash students to find 'Victory in Defeat' in their lives.
Baer told students he started thinking about the theme after Wabash's football loss to Wittenberg. He then reminded to students of the past difficult year at Wabash, the economic downturn which has affected everyone, and the ups and downs of life.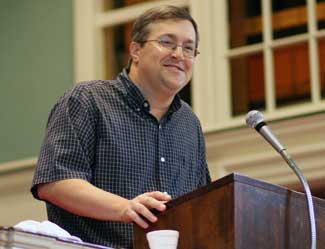 See Baer's full Chapel Talk on Wabash College's
YouTube page
.
He ran through a list of reactions people have when encountering defeat or hard times and challenged the students to find the positive. "When we fail, we don't like to take a hard look at ourselves, but life involves defeats and failures," he said.
Baer said everyone needs to learn how to win well and lose well. "And there is defeat in victory," he added. The professor talked about ungracious winners in sports.
"In defeat we can take a hard look at ourselves and look for new courses of action," Baer said. He suggested energy, passion, faith and commitment will help everyone overcome setbacks.