Wabash sophomore Sam Starbuck was flipping through the pages of Men's Health magazine when he saw a promo for the Men's Health Urbanathlon in Chicago.
The event is a rigorous race and obstacle course that incorporates challenging urban obstacles at iconic Chicago landmarks like Navy Pier, Shedd Aquarium, and Soldier Field.
And since the fall baseball season was over — and his teammate Keegan Leckrone said he'd run with him — Starbuck signed up for the nearly 12-mile, obstacle-riddled event through downtown Chicago.
Starbuck, a Logansport native, is an infielder on the baseball team, while Leckrone is a pitcher from Park Forest, Illinois.
Starbuck knew almost nothing about the event — only what he read on the Internet, so naturally he never imagined he'd finish among the leaders with more than 5,000 competitors.
And finish he did — first in his age group of 18 and 19 year-old competitors, and 282nd overall.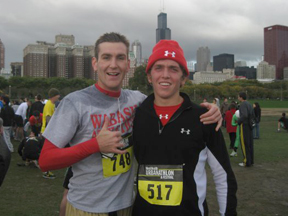 "In the end I had no idea I won," Starbuck said. "In fact, I thought it was a pretty poor time. But after looking at the results again and realizing that I had in fact won, I was pretty shocked."
Imagine walking to all of Chicago's great, iconic locations — Lake Shore Drive, over the Chicago River, up and down Navy Pier, back down Lake Shore Drive to Shedd Aquarium and then on to Soldier Field.
Now imagine running that route — in about 90 minutes. And throw in six body-jarring obstacles just to keep things interesting.
That's what Starbuck and Leckrone did.
"I only read about the obstacles on the Internet , so I did not really know what to expect and went into the race with an open mind," Starbuck says. "It turned out there were obstacles located approximately every three miles of the 12-mile course."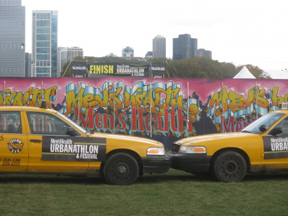 The obstacles are straight out of a reality TV show.
One "Tire Obstacle" had competitors stutter-stepping through every opening like you might see at a football practice — but with a lot more tires. A similar obstacle involved monster truck tires and competitors could not touch the ground between them.
There was a set of 12 "Monkey Bars" spread far apart, and another set of five "Marine Hurdles" that required competitors to go up and over each bar. The race ended with the innovative "Taxi Hurdle" that forced competitors to hurdle over the hoods of two parked taxi cars, followed by a "Wall Obstacle" to climb over with a rope in order to reach the finish line (photo left).
The killer obstacle was at Soldier Field.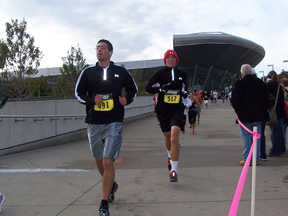 "The worst of the obstacles was the one-mile stair climb of Soldier Field," said Starbuck. "It came at about mile 10 of the race and was a shock to the legs at that point."
The Soldier Field Stair Climb involved running up — and down — 563 steps, then down the long exit ramp (in photo right).
While Starbuck was honored for winning his age group in 92 minutes, the best part was running with his teammate.
"The whole race was a great experience, especially running it with Keegan," he said.
Leckrone was no slouch, either. Running in the super competitive 20-24 year-old age group, Leckrone finished 520th overall and 99th (out of more than 350 runners) in his age group with a time of 96 minutes.
Not bad for a couple of Wabash baseball players!
"It was for a good cause as all the proceeds went to CAF (Challenged Athletes Foundation), to help pay for prosthetics for athletes who have lost limbs due to paralysis," said Starbuck, who is also president of Lambda Chi Alpha fraternity.
"In the future I hope to run the Urbanathlon in New York and perhaps next time raise a bit more money from organizations here on campus to provide more money to the foundation in the name of the College."