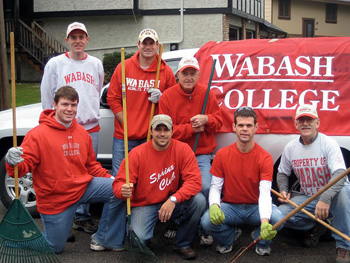 Six alumni spanning forty-seven years (1960 to 2007) gathered with four friends and family to do fall yard and garage clean-up at Hammer Residence, a nonprofit that provides homes for and works with people who are developmentally challenged.
We had twice as many volunteers as our previous high attendance for WABASH Day. The team worked diligently through the light drizzle that fell all morning. This was our first outdoor project for WABASH Day and in Minnesota the weather is borderline this time of year (It's snowing outside as I write this). With the large number of participants, the task was completed quickly leaving plenty of time for alumni and friends to get to know each other a little better.
This was the first time most of the alumni had met each other. Of course, no alumnus left without a current Wabash "It will be worth it…" brochure and one "credit card" for a free application for a referred student. A special thanks to Ellen Pactor for arranging the activity with Hammer Residence and bringing the camera! Rewarding work, good coffee and donuts, and great company…truly a good time!
See more photos here: http://picasaweb.google.com/enpactor/WabashDayMSP#
Attendance:
Charlie Crowley '70
Kyle Falconberry '96
Jacki Falconberry (Kyle's mom visiting from Indiana)
Ryan Freeman '01
Justin Killian '03
Dr. Bob Neal '60
Matt Nedved (Ryan Pritchard's friend from Iowa)
Ellen Pactor (Yes, Jon's daughter who also served as photographer and co-organizer for Minneapolis)
Ryan Pritchard '07
Jessica Prody (Justin Killian's friend and fellow grad student at the U of Minnesota)