In addition to the Making Strides Breast Cancer Walk on Saturday, Wabash alumni, parents and students worked on projects at 4 other locations in the Crawfordsville community.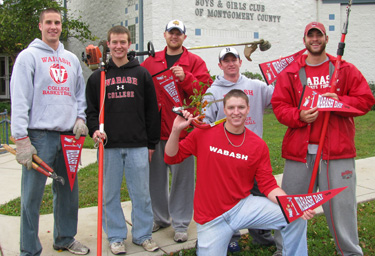 Jack Foos '73 and a group of students worked the morning at the animal shelter doing various projects including the cleaning of cages and stalls. Steve Hoffman '85 and a group of students trimmed trees and cleaned up at the Boys and Girls Club of Montgomery County property. Mac Petty H'82 led a group of his golfers to the Family Crisis Shelter where they worked to build a playground set purchased with grant money they just received shortly before Wabash Day.
Also, Herm Haffner '77 and Terrie Hall (current parent) along with some students worked at the Habitat for Humanity site just west of campus. The primary project for them was to remove screws and nails from lumber recycled from the Wabash homecoming floats.
Approximately 40 people were involved in the 5 projects. Thanks to all the volunteers for their time and energy.