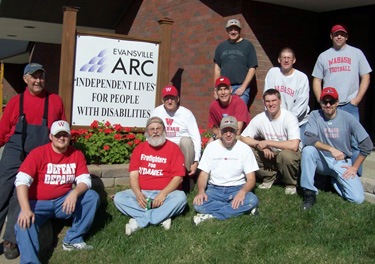 The Evansville Association of Wabash Men completed their day of service at the Evansville ARC center in grand style. Eleven stalwarts painted interior hallways and doors and pressure washed exterior surfaces to brighten the 30 year old ARC building for its staff and many clients with disabilities. While the quantity of manpower wasn't up to our usual numbers, the quality of the workforce was exceptional.
Many thanks to all who participated: Paul Ferguson '77, Randy Griffin '76, Eric Strehl '91, Matt Piechocki '03, Jay Adams '97, Steve Culley '73, Gordon Vogel '72, Jacob Peerman '09, Jay Kasey '79, John Musgrave '74 and Thom Liffick '73. Special mention is in order for Paul and Thom, the only 2 who have participated in all 5 Evansville WABASH DAYs.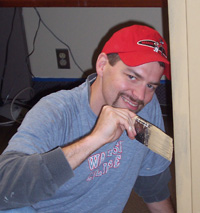 Thanks also to Tony Winstead, Maintenance Director and Kathy Oeth, Special Events and Volunteer Coordinator at ARC who were extremely accommodating and helpful to our band of amateurs. Thanks too for the lunch catered by Barb Liffick.
We worked hard and accomplished much. The experience of contributing effort is especially rewarding. We look forward to next year's project.