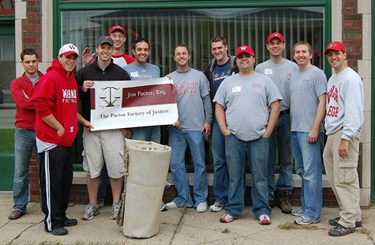 At Mapleton-Fall Creek Development Corporation, a non-profit that helps preserve Mapleton-Fall Creek's old homes and ensure affordable housing in the area. A group of 16 Wabash volunteers spent Saturday morning helping the community development corporation prepare to install new, donated carpet at its office at 30th and Meridian.
Volunteers moved furniture, computers, file cabinets, and vending machines to make way for carpet removal. Armed with utility knives, scrapers, and twine we then pulled up the carpet from concrete floors, cut them to 4' wide, rolled them up, tied them with twine, and hauled them to the dumpster.
Once the carpet was removed, we moved everything back for office use for the days before the carpet will be installed. The CDC treated us with pizza, chips, and drinks, for which we were all grateful.
Volunteers included:
Josh Tatum '03
Mark Sherer '03
Brent Kent '09
Adam Packer '00
Roger Neal '04
David Waldman '93
Adam H. Berry '03
Derek Nutty '04
Chris Greisl '07
Dustin DeNeal '04
David Johnson '04
Jeramie Frazier (friend)
James Hamstra '00
Ron Tatum (Josh's Dad)
Kyle R. Coffey '06
Joseph Hawkins '09