Ten Wabash men and one son gathered at Third Phase in Noblesville, IN October 3 to help restore a children's play area, landscape several areas, and provide firewood used for winter heat in Third Phase offices and women's shelter.
See Drew Casey '12 photo album here.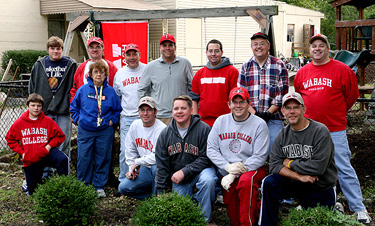 Nearly 20 yards of mulch were spread on the children's playground, weeds were cut, pulled, poisoned and otherwise eliminated, shrubs were trimmed, dead trees were removed, and hundreds of logs were cut and split. Various power tools (chain saws, log splitters, skid/steer loader, hedge trimmers and weed-eaters) were used with absolutely no injury to people, cats, or property – much to the surprise of some. Playground restoration assures a welcoming, safe place for children for the remainder of the fall, and a play area that will be ready for use next spring and all summer long. Flower beds were cleared and mulched, ready for next spring's blossoms.
Third Phase was selected as a Wabash Day project at the suggestion of several local alumni. In addition to volunteers who helped that day, Jonathan Hunt '92 coordinated the donation of mulch by Al Peterson of Curb Appeal Outdoor Services (Cicero) and Ken Worley of Country Mulch in Westfield. Thanks so much for that generous donation!!
Participating were:
Seamus Boyce '03 Jim Dashiell '68
Greg Estell '85 Mark Fryman '00
John Haigerty '87 Frank Horvath '85
David Kress '89 Matt Kress (son of David)
Mac McLaughlin '83 Kevin Pastore '95