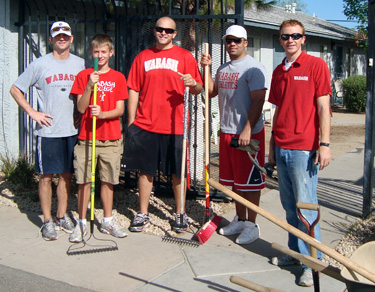 The Arizona Regional Alumni Association's Wabash Day event was working at Southwest Behavioral Services. We chose this project because of a Wabash connection, Marcy Herzog, who is one of the directors at the site. Southwest Behavioral Services provides shelter, services, nutrition and counseling to persons in and around Maricopa and Pinal County to people dealing with addiction issues or mental obstacles which prevent them from functioning well in society. Services aim to restore a persons ability to be participate in their communities and improve their quality of life.

For our Wabash Day project, we coordinated with Marcie to plant flowers, put down rock, and clean up a residential site in downtown Phoenix. We had four alums involved, including Billy King '07, Shaun Rico '06, Tony Caldwell '07, and Mike Rapier '87, along with Mike's son Matthew and brother Dave, and Marcie. Marcie is Cal Black's daughter and Tobey Herzog's daughter-in-law.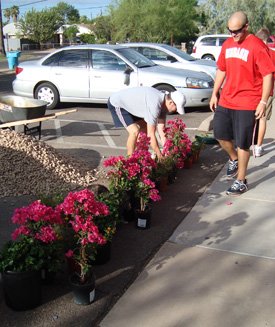 We gathered Saturday and got right to work on site. We were able to really spruce up the space and received multiple comments from the residents that we really made a difference in their living area, and asked one of the residents to make sure to water the plants twice a week going forward. Mike is planning on returning to the site to install an automatic drip water system in the near future.
Overall it was a great project and we look forward to a continued relationship with SWBS.