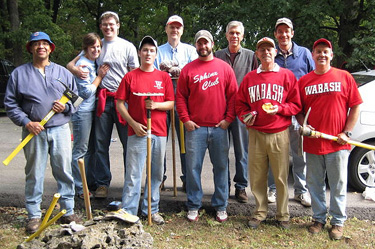 Under a clear October sky and unseasonably cool weather (thank goodness), the 10 WABASH Day volunteers in St. Louis took to the woods in the rolling hills of Greensfelder Park in what was billed simply as a "trail rehabilitation project."
Four hours and several sore backs later, we emerged from those same woods having cut, notched, and dug an off-road bicycle trail from virgin forest. Armed with unfamiliar fire-fighting tools such as Pulaski mattocks and bladed McLeod rakes, we swung our implements like a chain-gang right out of "Cool Hand Luke".
The one non-alumnus in our group - Steve Egan's ('09) delightful significant other - kept up with the guys and was a welcomed addition to our otherwise all-male troupe. Our group of nine covered 40 years of Wabash classes, from the class of 1969 (Charlie Raiser) through 2009 (Steve Egan).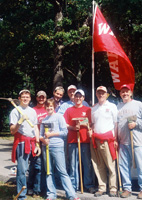 Our service project, in support of the St. Louis County Parks and Recreation Department, was part of a multi-year effort to link several trails to create a competition-quality off-road bike racing venue. It turns out that Greensfelder Park contains the most challenging off-road biking trails in the state of Missouri and they are attempting to attract regional racing events. Little did we know that the "raking and tree trimming" we volunteered to do turned into digging trails into the side of steep slopes, breaking up rocks with pick axes, and chopping trees and roots.
Needless to say, this was a drastic departure from prior W.A.B.A.S.H. Day events that involved gathering seeds and weeding gardens. The event coordinator (me) was reminded several times that next year's event needed to be a little less strenuous.
One side benefit of the event was that Charlie Raiser ('69), who is a member of the Missouri Mycological Society (they collect and eat mushrooms – the legal kind), and Dr. John Williams ('85) found a large growth of laetiporus sulfurous (otherwise known as "chicken mushrooms") and collected a plastic bag full of the stuff. To the delight of the other thirty or so volunteers at the event, Charlie gave an impromptu field lesson in the identification of mushrooms and how, with a little butter and salt, the bag of fungus could be transformed into a culinary delight. Much to his chagrin, there were no takers when he offered to share his mycological harvest.
Jim Dyer – '83
Mike Kelley – '70
Gary Zack – '76
Jim Pace – '78
John Williams – '85
Drew Howk – '08
Charlie Raisor – '69
Chad Finley – '08
Steve Egan – '09
Ashley Rittenhouse (IUPUI) – '10 (Steve's friend)