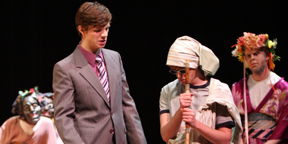 Once again, the Wabash College Theater has set a new standard.
In reviving one of the oldest and most often performed Greek tragedies, Director Jim Cherry, Set and Light Designer James Gross, and Costumer Andrea Bear provide a breath of fresh air in the College's production of The Bacchae, one of the last plays Euripides wrote before his death.
But rather than a breath, the creative trio and a talented cast have blown a gale force wind into the lungs of the College's theater. Take a sneak peek here.
The Bacchae opens Wednesday and plays through Saturday with performances at 8:00 p.m. each night in the Ball Theater of the Fine Arts Center.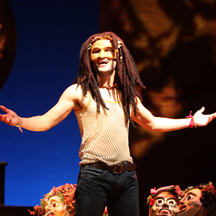 Cherry's vision includes veteran actor Spencer Elliott (above) as a modern suit-wearing King Pentheus, who is up against mobs of masked followers of the dreadlock-adorned Dionysus.
Dionysus, played brilliantly by junior Josue Gutierrez (left), has returned to his native Thebes and is angry that people have made no sacrifices to honor his murdered mother's memory.
In the first act, a paranoid King Pentheus sends his fatigue-clad soldiers out to put down the uprising in a grand clash between order and disorder, chaos and restraint.
Chorus members chant, worship, and dance in sometimes frantic and often mesmerizing scenes.

Gross has designed a set that looks like a modernized version of an ancient Greek amphitheater, complete with a sculpted stage that leads to an alter some dozen feet off the stage. Dramatic lighting only adds to the intrigue and power of the conflicting principles of Dionysus and Pentheus.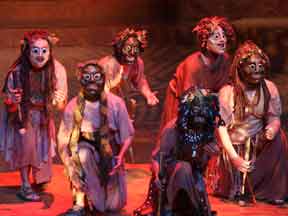 Meanwhile Bear's costumes — from fatigues to flowing robes — and stunning masks worn by members of the chorus are simply stunning.
As the actors (including guest actress Caroline Good from DePauw University) recite lines made famous and often imitated over the centuries, two percussionists, also costumed, provide a steady, rhythmic percussion beat that advances the drama.
The cast list also includes Liam Smith '13 as the Chorus Leader; Garrett Wilson '13 as Tiresias; Gus McKinney '12 as Cadmus; Aaron Hirsch '12 as a soldier; Patrick McAllister '10 as a soldier; and Donovan Bisbee '12, Jon Hogge '10, Clay Zook '10, Chris Hogge '13, Adam Phipps '11 as the Chorus. Good plays the part of Agave.
For tickets contact the Fine Arts Center Box Office by email; or by phone: 765-361-6411. Box Office hours are Monday through Friday, 8:30 a.m. to noon and 1:30 to 4 p.m. The box office will open 90 minutes before curtain time. Tickets not claimed at the Box Office 10 minutes prior to curtain will be released to the general public.