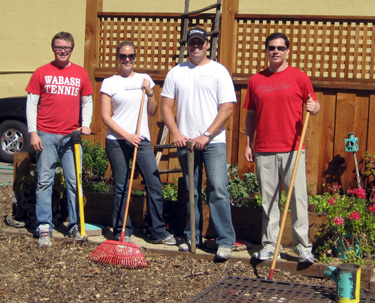 On Saturday October 3, 2009, three Wabash alumni and the wife of an alumnus worked at the Clausen House in Oakland, California. The Clausen House creates opportunities for adults with developmental disabilities to gain competency, develop relationships and join the community with
increasing command over their own lives.
Clausen House is a non-profit corporation serving more than 180 adults from the San Francisco Bay Area. Specifically, the Clausen House Residence & Administrative Headquarters which houses 16 adult residents as well as the offices of the executive staff. The building is the former home of Earl Warren, who was the Governor of California and Chief Justice of the United States.
This year the project focused on landscaping the back yard of the Clausen House Residence & Administrative Headquarters. Over the course of the day, the 4 participants weeded and cleared approximately 2000 square feet of land, laid 2000 square feet of landscape fabric, and covered the area with nearly 4 tons of mulch. The project was a great success!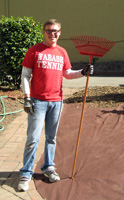 Those participating:
Nathan Cain '05
Jeff Rice '00
Courtney Rice (Jeff's Wife)
Jonathan Walsh '98