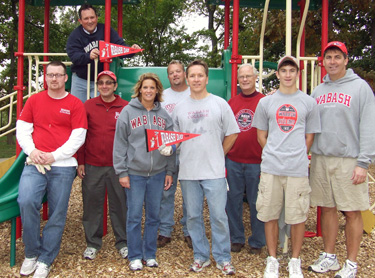 Fourteen Wabash men, women and children worked together successfully Saturday to spread over three tons of wooden mulch chips and improve two playground areas at The Villages in Indianapolis.
The Villages provides services such as, Foster Care, Adoption, quality Child Care and Early Childhood Development Services at this Indianapolis location. The state-of-the-art Center also provides Child Care Services to children six weeks old to kindergarten age.
This is the fifth year that we have completed projects at The Villages. Denise Ferrell, onsite Director at The Villages stated that our work today will save The Villages over $3,000 and that these savings will help those that are less fortunate to continue to utilize the child care services that The Villages are able to offer.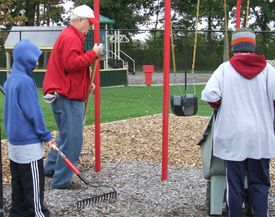 Participants included: Patrick Beymer '06, G.B. Landrigan '85, Jon Pactor '71, Karen Bruzas, Jeff Kerner '93, Greg Bruzas '82, Don Kerner '62, Grant Benefiel (16), Kevin Benefiel '81, Erin McNulty, Oliver McNulty (14), Timmy McNulty (13), Eric Young '83 and Mara Young (8).