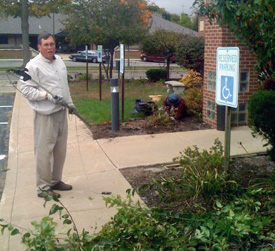 Fulton County Wabash Day service took place October 3, 2009 from about 10:30 a.m. until approximately 2:30 p.m. The group attended to much-needed yard maintenance at our Fulton County Community Center, which is open to public use, particularly to seniors, and provides meals and a hub for our local public transportation vehicles.
Participants: Douglas Morton '68, Greg Mellinger '73, and Andy Perkins '97.
In photo: Mellinger doing some tree trimming.