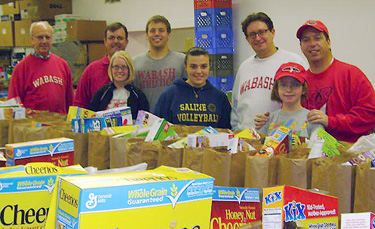 Wabash men and family and friends bagged food for distribution to the needy at St. Christine's Christian Services on Detroit's west side on October 3, 2009.
St. Christine's serves the Brightmoor neighborhood, in which 41 percent of children live in poverty and the unemployment rate is above 30 percent. The food pantry provides 7,000 bags of groceries annually, and the soup kitchen serves more than 14,000 meals per year.
The Wabash Day team prepared one week's worth of groceries and then some -- roughly 200 bags -- and provided other assistive help on boxes and bags which enable delivery of food.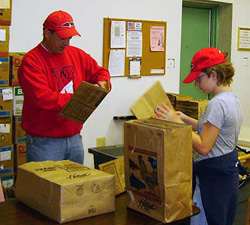 Participants included Dexter Snyder '64, Roy Sexton '95 and niece Gabby Rundall (age 14), Kevin Hornick '94, Trayton White '08 and wife Alena, and Terry Hamilton '89 and daughter Emily (age 11), who made her fifth consecutive Wabash Day.