The National Association of Wabash Men had its annual business meeting, short and sweet in keeping with tradition. The real business of the NAWM on Homecoming Weekend was the presentation of Alumni Awards of Merit and Honorary Alumna awards.
Alumni Dale Petrie '75, Trey Holland '71, and Roger Billings '59 received Alumni Awards of Merit, while former NAWM President Tom Topper was posthumously honored as an Alumni Admissions Fellow.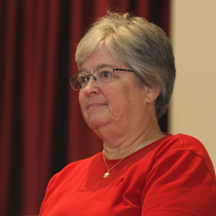 But on a weekend when Wabash's alumni lawyers returned to campus for a reunion and continuing legal education, it seemed most appropriate to name long-time Political Science Professor Melissa Butler an Honorary Alumna.
"As professor, you demand nothing short of the best from your students," said NAWM President Mark Dewart when presenting Professor Butler with her citation. "In turn, you provide breadth and depth to their experiences through your own teaching and the opportunities you provide for them."
Professor Butler chose to join the Wabash Class of 1985. She came to Wabash in 1976 to teach in the Political Science Department, and was the first woman granted tenure in the College's history. She has been an on-campus leader of international studies and immersion learning courses; won the McLain-McTurnan-Arnold Excellence in Teaching Award; and chaired both her department and division during her time at Wabash.
"You are equally comfortable teaching and learning in the casual environment of a fraternity dinner, on the road with alumni clubs in Washington or San Francisco, and in private counsel with wayward Wallies," Dewart said. "It is the latter gift — the one-on-one work you do with students — that is hardest to quantify, yet probably has the greatest impact in the development of young men. Indeed, you have a staunch belief that Wabash men should, in fact, conduct themselves as gentlemen… and you're not afraid to hold them to that standard."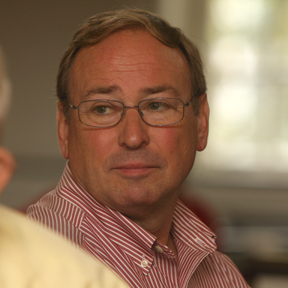 Dale Petrie was honored with the Fredrick J. Urbaska Civic Service Award for his contributions to Crawfordsville and Montgomery County. Dale is president of the Crawfordsville School Board, the Lew Wallace Preservation Society Board, and the board at First Christian Church. He has been actively involved in the Character Counts program, and has chaired the Strawberry Festival Committee three times.
In quoting Petrie's minister, Keith Strain, Dewart spoke of Petrie's leadership. "Dale's insight, depth of experience, and general knowledge always gives wise counsel. His cool demeanor can allow a meeting of escalated emotions and even coiled tempers to find a calming path where all are heard."
Dewart also said Petrie's work in Crawfordsville sets a good example for Wabash students, faculty, and staff. "Dale, your gift to this community is your life of devotion to improving the people and the places around you," Dewart said. "In fact, we would be hard pressed to find an alumnus who in his everyday actions and interactions better exemplifies all four pillars of Wabash's mission — critical thinking, responsible action, effective leadership, and humane living.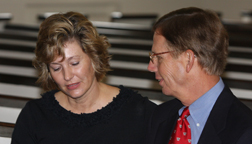 Dr. Trey Holland received the Clarence A. Jackson Career Service Award for his work as a urologist and surgeon, and as past-president of the United States Golf Association. He's frequently been voted as one of Indianapolis' best urologists by
Indianapolis Monthly
magazine. Not only did he serve the USGA as its president, he served on nearly one-third of the USGA's committees and was chairman of the Rules of Golf Committee.
"In both medicine and in golf, your keen intellect, hard work, humility, and self-effacing humor have defined your leadership," said Dewart when honoring Dr. Holland. "Your professional demeanor, positive outlook, and that deep, calming voice inspires hope and courage in your patients — the thousands of men and women you have treated for kidney disease and cancers of the prostate and bladder."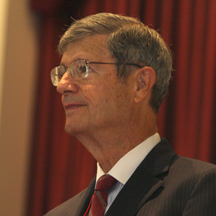 Roger Billings, Jr., Professor of Law at Northern Kentucky University, received the Frank W. Misch Alumni Service Award for his contributions to Wabash College — also fitting given that Homecoming brought back to campus a reunion of alumni lawyers.
"Yours is a family that has been good to Wabash," Dewart said to Billings. "Your father, Roger, was also a devoted and loyal son of Wabash, as is your brother, Tom. But to say that you have been simply "good" to Wabash is an understatement that would make even the most seasoned lawyer blush."
Billings served as president of the Board of Directors of the National Association of Wabash Men, and has served on the Board of Trustees since 1994. He is actively involved in student recruitment and fund-raising activities in the greater Cincinnati, Ohio area.
"The College's charge to its graduates each spring is for them to go forth and be good Wabash men. Our graduates would do well to model their lives after yours," Dewart said.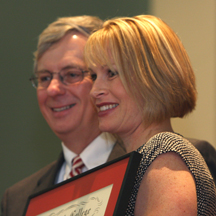 The final award, the NAWM Alumni Admissions Fellow, was presented posthumously to Dr. Tom Topper and was accepted by his wife, Gina. Dr. Topper was a surgeon in Evansville, Indiana, and prior to his death served as president of the Board of Directors of the National Association of Wabash Men. He frequently hosted recruiting events and attended "W Nights" on behalf of the College.
"It would be impossible to know exactly how many future Wabash men drew inspiration and encouragement from Tom, but it's safe to say he was involved, he cared, and demonstrated through his life's work the power of a Wabash liberal arts education," Dewart said.