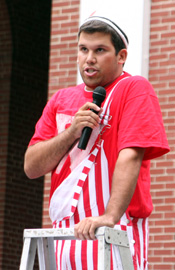 In drizzling rain and high humidly the tradition of Chapel Sing continued Thursday morning. Freshmen sang for nearly 45 minutes proving to Sphinx Club members they knew the words to "Old Wabash.
Well, for the most part.
At the end of the competition it was the FIJIs taking top honors in the event that officially signals the beginning of Homecoming. Theta Delta Chi, last year's champions, still managed a second-place finish despite just five freshmen pledges.
But the event is more than who wins and loses Sphinx Club President Will Hoffman said before the singing began. Chapel Sing is one of the most treasured Wabash College traditions.
"This is a positive event in which students and faculty new to the college can participate in traditions of the past and members of the community can gather to celebrate the higher standards and aspirations that Wabash has come to represent over the years," Hoffman said. "The competition will last approximately 30 minutes with the winner being announced at the end. W's will be used by the Sphinx Club as a tally system to help determine which pledge class has mastered the song."
But it's the memory of the experience, Hoffman said, the freshmen should treasure and share with others. "Freshmen, this is a chance for you to enter the brotherhood of Wabash men," he said during his opening remarks. "The majority of Wabash men have gone through this tradition and have always held it close to their heart. Good Luck."