A great offense does not start with a speedy running back or wide receiver. It does not start with a strong-armed quarterback or game-changing tight end.
While these players are the ones with the highlight clips and big-money endorsements, any offense starts with the offensive linemen.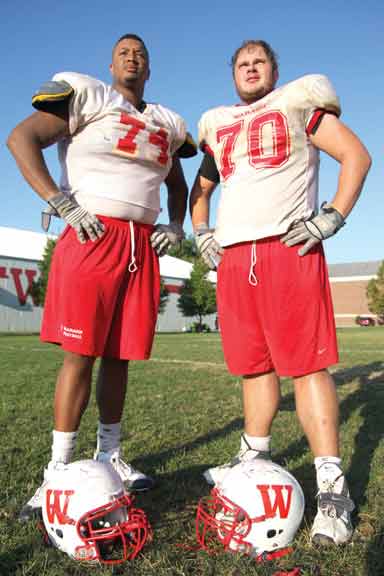 For three years, the right side of the Little Giant O-line has been anchored by seniors Jeremy Morris and Skip Tokar. For 26 games, Morris and Tokar have battled side-by-side, punishing opponents and protecting the quarterback. This experience has not only formed a formidable right side, but also a great friendship.
"Me and Skip are real close," said Morris, who returned for a fifth year at tackle this Fall. "We work well together. He sees I need help and he helps me, I see he needs help and I help him. I have never thought for a minute that Skip won't do his job."
Good blocking is more than just brute strength and quick feet. It requires communication and coordination, which necessitates a tight group. "The big thing with the O-line is trust and communication," Tokar said. "Five guys need to be on the same page to get things done. If one guy doesn't do his job, the whole line looks bad. We're the closest on the field."
After the past few seasons together, Morris and Tokar are more than on the same page. "Most of the time, you don't even need to say anything," Tokar said. "We just know. I trust him."
Since this chemistry is so important, Morris and Tokar, along with the rest of the line, make sure to build their relationships off the field as well. Trips to Dairylicious, watching NFL games at someone's house, and cooking out are common activities that the O-line does together as a unit. "Usually it involves food," Morris said. "Not surprisingly."
During the off seasons, Morris and Tokar remain in close contact, even despite great distances. Last semester, while Tokar was studying abroad in Australia when he heard that Morris would return for a fifth year at tackle. The excitement and emotion traveled all the way across the great Pacific.
"I remember talking to [Morris] some time in March," Tokar said. "When he told me he was coming back this season, I was so excited. I told my roommate in Australia right away; I was so excited. It was like Christmas again."
With one more year to wreak havoc on defensive lines together, Morris and Tokar predictably have high expectations for this season. "We want to be the best O-line in the country," Tokar said. "With all the people we have back and the talent of the guys stepping in at center, anything other than that would be a failure. We have lots of talent, lots of experience. We're shooting for perfection."
They certainly got off to a good start in the season opener last Saturday. The Little Giants rushed for an incredible 268 yards rushing against Denison. They also gave up zero sacks as senior quarterback Matt Hudson threw for 264 yards and three touchdowns.
Averaging 6'5 and 285 pounds, the Little Giant offensive line is huge, intimidating and powerful. But their true strength comes from the strong bond that unites them. The bond that is manifested every game on the right side of the line.