Little Giants Grab Fourth Place at NCAC Opening Golf Event
by Brent Harris • September 14, 2009

Share:
Sam Russell tied for third individually at Ohio Wesleyan Fall Invitational, held Saturday and Sunday at the Delaware Golf Club in Ohio. Overcome serious injuries suffered two months ago in a mountain climbing accident, Russell's 149 helped the Little Giants finish fourth place as a team in the season's inaugural event.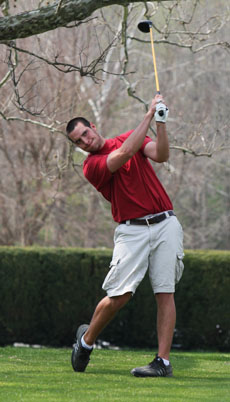 Russell shot a 71 on Saturday followed by a 78 Sunday just two months after a mountain climbing fall in Wyoming this summer. Doctors told Russell there would be no chance of playing competitively in the early portion of the 2009 golf season. His physician re-evaluated Russell's condition when the cast was removed from his broken left ankle.
Teammate Luke Moton shot a 158 with a pari of 79's. Kyle Nagdeman finished with a 161 (77-84), while Jordan Koch added a 163 (77-86).
Wabash scored a total of 631 strokes, trailing tournament champion Wittenberg in first place with a 595. Ohio Wesleyan was second (608), followed by Allegheny (627).
Wittenberg's Graig Osterbrock and Ohio Wesleyan golfer Jesse Chiero each finished with 149's to tie Russell for third. Wittenberg's Ricky Boerner and Ohio Wesleyan's Tom Harman shared the top spot with 146's.
The Little Giants return to action this Saturday for the two-day Anderson Invitational.