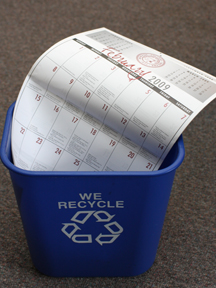 The final pieces are now in place to complete the College's transition from traditional paper wall calendars to a fully electronic and automated system.
IT Services Director Brad Weaver announced today that significant upgrades to the College's online calendaring system have been completed. Weaver said the Wabash community would begin to receive the daily email calendar beginning Monday and continuing through Wednesday.
The daily email calendar is generated each morning at 4:00 a.m., and pulls from the College's entire events database to provide the most accurate and complete listing of the day's activities — both on and off campus. The new format also provides embedded hyperlinks to additional information on the events.
IT Services has overhauled the "Full Calendar" function on the College's website, as well. The new version provides a complete month view of activities and events, and is generated by pulling from the same database as the daily calendar. Other benefits of the monthly calendar include synchronization with electronic calendars like iCal and Google Calendar, as well as email notification of upcoming events.
"We made the decision to eliminate the printed Activities Calendar and Fine Arts Calendar for both strategic and cost-cutting reasons," said Director of Public Affairs Jim Amidon. "In reality, those printed calendars were out of date the day we printed them. With so many people in our community using handheld organizers and online calendaring systems, it made sense to upgrade our technology and make the switch this year."
Amidon and Weaver say that the new calendaring method will take some time to get used to, especially for those people who used their Activities Calendars as their daily planners.
"Because the online calendar is dynamically generated and updates automatically, it's going to be far more accurate than the old printed version," said Amidon. "People will need to sit down for a few minutes each week to sync their calendars and decide which events they want to attend. And the automatic email reminder is another important feature many people should consider using."
The Wabash community will receive the daily email calendar Monday, Tuesday, and Wednesday this week. After that, people will need to sign up to receive the daily email calendar. To sign up to receive the daily email calendar, just click on Full Calendar on the home page.
The entire system, including event-specific email reminders, works for on-campus and off-campus users.