The Art Department at Wabash College is excited to announce its first exhibit of the season. Wabash College will show "Sorrows of Swans" by Eleanor Spiess-Ferris and "The Girl Who Stopped Being Human!" by Krista Hoefle in the Eric Dean Gallery from August 31 through October 14 with a public reception 8-9:30 p.m. on Monday, August 31.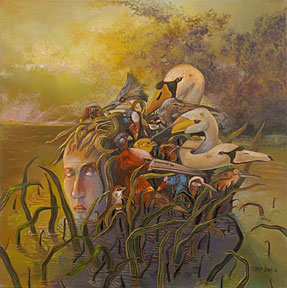 The paintings of
Eleanor Spiess-Ferris
(left) are surreal narratives layered with visual metaphors depicting her perceptions of the human condition and her concerns with the nature of human existence and the continuance of our earth as we know it.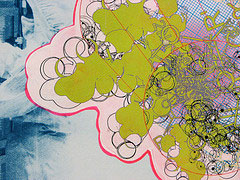 Krista Hoefle
's (right) installations create viewer-interactive environments of space and forms using "hybridized" methods of combining computer technology with traditional media of sculpture, printmaking, photography, video, and design. Themes addressed are (cyber) feminism and the genres of science fiction and horror (the abject, mind-body dichotomy, life extension ethics, and cyborg identity). Her exhibit, "The girl who stopped being human!" is a current installation project that explores the idea of "gynotopias" in conjunction with scientific visualization, drawing inspiration from 1950's B-movies of love-starved amazons from outer space."
The Eric Dean Gallery is located on the south end of the Fine Arts Center. Gallery hours are Monday through Friday from 9 a.m. to 5 p.m. and on Saturday from 10 a.m. to 2 p.m. The gallery is free and open to the public.