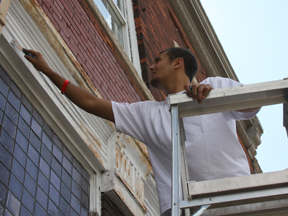 Three board members of the Sugar Creek Players, the local theater company that makes its home in downtown's historic Vanity Theater, were certainly ready for the Wabash freshmen in Professor Crystal Benedick's advising group.
Managing Director Nancy Rodenbeck, Board President Amy Woodall, and Board Vice President Bill Hepburn put the 13 students — and their orientation leader, Victor Nava — to work right after they walked through the doors. They paused only briefly to wolf down pizza and freshly baked brownies, then got back to work.
The effort was part of the Freshman Orientation Program at Wabash. All new students, just 48 hours removed from being "rung in" by President White, are assigned to work on service projects at local community agencies, churches, and non-profits.
At the Vanity Theater, there was plenty to do.
Professor Benedicks was on hand to lead the charge, too, as her students — Adam Kowalski and Michael Keve (above right) — climbed ladders to begin scraping and painting the façade of the historic building. Other students, armed with Sawzall reciprocating saws were cutting apart old risers and pieces of stage equipment. Two young men put the finishing touches on an office make-over by installing Internet cables, while a third — Evan Lane — got busy installing some new shelves in the office.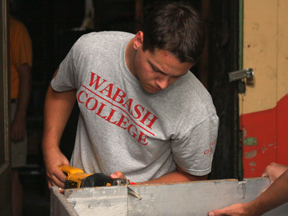 Lane (left), who showed excellent prowess with saw, tape measure, screwdriver, and square, is likely to be recruited by the theater board to help with set construction for future performances.
"The Sugar Creek Players have a relationship with Wabash College that goes all the way back to our founding as a community theater," said Rodenbeck, who serves as Managing Director of the theater. "Former President Thad Seymour got with some like-minded people to establish the Sugar Creek Players in 1971, and there have been strong connections ever since."
The most recent production at the Vanity Theater was directed by Wabash graduate Tyler Bernet, while Reed Hepburn '12 had the lead role. Three other Wabash students were also in the cast.
But on Monday, it was all work and no play for the students in Benedick's Freshman Tutorial.
Four students were busy painting the Vanity's stage and the walls around it. Two students were in the lumber room upstairs and trying to sort out props from the piles of wood, doors, and other set pieces.
In short, there was something for everyone to do over the course of four hours Monday afternoon.
"It's great to have the Wabash gentlemen here, already contributing to our community," said Woodall, running from one group to another to make sure all had something to do. "It's amazing how much you can get done with so many able-bodied, willing young men."
Rodenbeck seemed almost giddy to have the finishing touches put on the theater's office in the lobby.
"We're just so grateful for the students' hard work here today," she said. "And we hope that by introducing them to our theater, they will see other entertainment options here in town and we hope they will be inspired to audition for our plays or volunteer their time."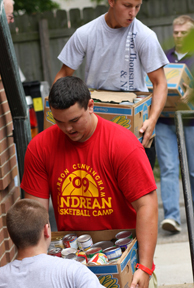 Down the street and around the corner, Cliff Kocian '11 led Professor Scott Himsel's advisees in work for the FISH food pantry. These Wabash freshmen weren't on site at the Methodist Church for quite as long as those at the Vanity, but the work was brutally physical.
The students positioned themselves 6-8 feet apart and handed one another huge boxes filled to the brim with canned goods and other non-perishable food items. Most of the boxes weighed in excess of 50 pounds, and had been loaded into four large pick-up trucks from a storage facility across town.
Box by box, arm by arm, the guys moved thousands of pounds of food for the needy down the narrow steps to the FISH food pantry in the basement of the church.
Joe Magura (right) used his football lineman size to move the boxes, and in between loads talked about the community service work he did in high school.
"We went to a Catholic high school at Andrean and we were required to do 16 hours of community service each year," said Magura. "But most of us did a lot more."
"This was great," Matt Page said of the assembly line work. "We could never have done this by ourselves."
While it might have seemed like grunt, manual labor, the message sunk in — Wabash students as a group have great power to make a difference; to change lives.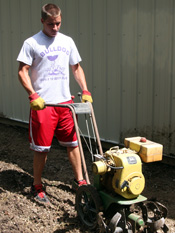 There may not have been as much grunting but plenty of sweat at the Montgomery County Habitat for Humanity site where freshman did some yard work and digging trenches for water run off.
"This is pretty fun. We're getting out and being able to hang out together," said Robbie Hechinger, Brownsburg (at left). "We had lunch and now we're out here working sort of like a team-building thing. We get to know the guys a little bit better and get to know more guys."
Hechinger was impressed by his first two days at Wabash and by the quality he sees in his classmates. "Everybody at Wabash is so nice," Hechinger said. "You couldn't meet a better group of guys. Wabash does a really great job of getting the guys in here and knowing the right type of guys they want here."
The Montgomery County Animal Welfare League was appreciative of the Wabash men who came to give the shelter's animals some individual attention.
The young men bathed dogs, cleaned up areas, and walked the shelter's animals.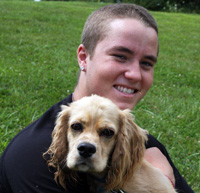 "Pretty much every dog is going to get walked today," Director Kyle Schlichting said. "We try to get every dog outside in the playyard every day, but to get 15 guys in one day that is really great. Every dog gets walked , some leash training, and some time alone with a person - that's really important. It's important the dogs have some human companionship every day."
It was community service effort the young men enjoyed and embraced. Schlichting took the opportunity to make a pitch to all Wabash men. He noted the shelter is always in need of volunteers and guys can make arrangements to come out and spend time with the dogs throughout the year.