The late summer ritual of Freshman Saturday played out in cooler-than-normal temperatures, parental nerves and Wabash traditions.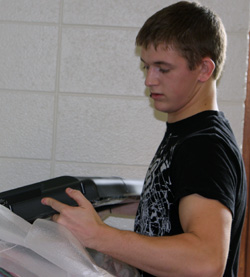 See photos here from Saturday morning registration and moving in.
For 21 international students it was just another day of orientation. One of the biggest international classes in years started arriving a week ago. This year's class features nine students from China.
The rest of the Class of 2013 began checking in as early as 8 a.m. Saturday at the Allen Center for registration, identification photos, financial aid advice, employment self help paper work, housing assignments, and a host of activities associated with a young man's first day at college.
The other major morning activity was getting the young men settled in their dorm and fraternity rooms. Moms were making beds, dads constructed shelves, girlfriends were just nervous and a young man stood in most rooms the center of activity with a mild look of bemusement and anxiety.
For Winston Craft '13, it was just a drive down from Attica, Indiana. Craft's father was helping his son arrange furniture. A handful of Little Giant football players assisted the future Wabash wrestler getting belongs to his College Hall room.
For the second straight year, Head Football Coach Erik Raeburn had has team out helping young men move into their dorms. Three and four football players were grabbing items from the back of minivans to the astonishment of more than two or three sets of parents.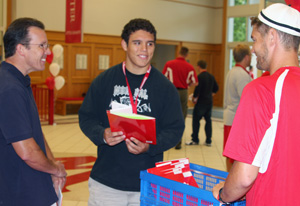 For Ryan Lutz '13 the journey was much longer - he came to Wabash from California. Lutz was accompanied by his father Kevin, an attorney. Ryan is the oldest child. "I'm just kind of excited, worried, apprehensive about the whole thing," Kevin Lutz admitted. "But he's really excited. It's a new adventure for him and I think he'll do well. I just told him to study hard and get good grades."
It was a family affair down the hall from Attica's Craft at College Hall. Jack Gruse '13, Appleton, WI., had his parents and a young lady along to help with the moving in and room setup. His father had come to Wabash in 1981 to play basketball but transferred after a year-and-a-half.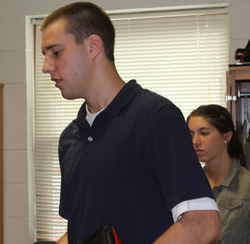 The 6-foot, 4-inch son will play basketball for Mac Petty this fall. He freely gave his mother a hard time while she made his bed and straightened his room. "I'm just excited to move out of my house," he admitted. "I came here to play basketball and because of the academics. Right now I just want to meet my roommate."
For Amy Gruse it is the second time around sending a child off to college. An older daughter has already gone through the ritual. "Jack is our only son so I'm happy for him," she said. "I'm worried how much partying he's going to do but he's going to be all right."
She then nodded to her husband, "you might want to talk to him it's going to be tough for him." Jack is the only boy of four children, she added.
Amy Gruse said most of her advice and worries were typical of any mom. "I'm not going to see him for a long time since we're quite a ways away," she said.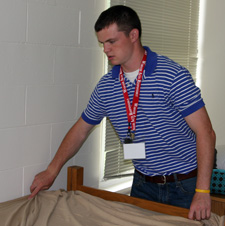 At Martindale Hall, a stone's throw from College Hall, the residential assistants had most of their freshmen moved in. It was a long night for two of those freshmen, Patrick Neary and Mack Lopp.
The two friends from Brookston, IN., decided to room together at Wabash and got a head start on their experience when both landed in David Hadley's Fly Fishing freshman tutorial class. They both admitted being tired. They didn't get to campus until around 1 a.m. Saturday morning.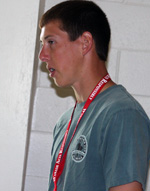 Lopp is weighing his extra-curricular activity options. He was an athlete at Frontier High School. Neary plans to run track for the Little Giants next spring.
For Lopp and Neary's parents and all of the others it was a day of pride, mixed emotions, and turning a page in their son's lives. The cooler temperatures made the chores easier. The Wabash traditions impressed them more than expected, but the nerves may not go away for just a little while.
In photos from top: Winston Craft, Kevin and Ryan Lutz, Jack Gruse, Patrick Neary, and Mack Lopp.