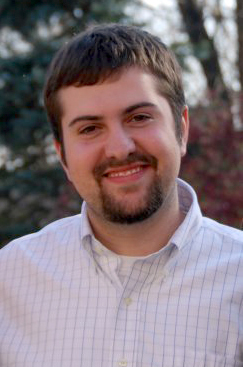 Wabash Stories, the grassroots story-gathering effort begun earlier this year by a group of Wabash College alumni and coordinated by Bruce Gras '68, this week launched a new Web site designed to make it easier for more Wabash men across the generations to share their stories online.
Gras, of Culpeper, VA, announced that Wabashstories.com, which has thousands of readers and has received more than 100 stories since its first iteration was launched in March, also has newly named editor-in-chief Brandon Stewart '08
(at right)
of Philadelphia, PA, overseeing the project.
Stewart, who works by day as program officer for the Foundation for Individual Rights in Education's Campus Freedom Network, also redesigned and set up the new site.
"Brandon has created something that we can be proud of as not just an enhancement of Wabash Stories, but rather as a new era for how and in what ways Wabash Stories can serve and be part of the whole Wabash community," said Gras.
Stewart's addition to Wabash Stories adds a focus on younger alumni, and the new site features links to Facebook, YouTube, Twitter, and Flicker.
These outlets provide us with additional exposure and allow us to fully harness the viral nature of the social web," Stewart said. "In addition, visitors will now be able to leave comments and share stories on their favorite social networking sites. Visitors can also sign up for our mailing list to receive a roundup of the previous week's stories each Sunday."
Most importantly, users now have the ability to submit their own stories (along with photos) directly from the website. All submissions will be sent to the editors who will read each one and then publish them online.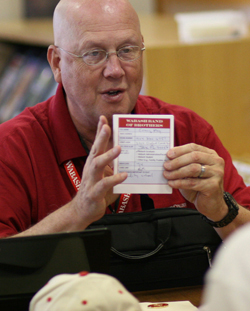 Gras
(left)
will continue as co-story editor for the site, teaming with Stewart to bring all generations of Wabash men together to tell their stories.
"Brandon is going to reach out as much as possible to current students and younger alumni for the stories, and I will continue to work with the alumni who have been out and about for quite awhile," Gras said.
Wabashstories.com began last spring as part an attempt to connect alumni more directly in a one-on-one mentoring relationship with current students, an idea inspired by Gras' classmate Jim Roper '68.
"In the midst of kicking around possible ways to do this, Greg Castanias '87 thought we could at least get a dialogue going," Gras said. "Wabash Stories was his idea."
Stewart said Gras turned a great idea into a reality.
"Greg tells me that Bruce left that meeting and had the Web site up in 24 hours, which is nothing short of impressive. Since then, he has done a fantastic job of soliciting stories and putting some great content together. Greg mentioned the project to me shortly after it was conceived and I let him know that I'd love to get involved if they could use another set of hands."
"I'm tremendously excited to be involved with this great group of alums and hope to get as many students, alums, and friends involved as is possible," Stewart said. "More than anything else, I am interested in helping pass on the traditional Wabash canon as well as helping uncover some heretofore hidden gems. I hope that the Web site will serve as a platform on which to share common Wabash experiences which can be used to really assess what makes Wabash what it is and how a more involved and connected alumni corps can help to preserve it."