President Patrick E. White announced today that Wabash College has repackaged financial aid awards for over 240 Wabash students who receive grants from the state of Indiana.
President White said Wabash will make up for reductions in grant money students have traditionally received through the State Student Assistance Commission of Indiana (SSACI) in the form of the Frank O'Bannon Higher Education Awards and the Freedom of Choice Grants.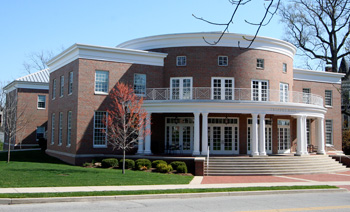 Like most colleges and universities in Indiana, Wabash had created and distributed financial aid and scholarship packages for its students prior to the approval of the Indiana state budget. The packages were based on the amounts of the SSACI awards from the 2008-2009 school year.
Job losses in Indiana led to an increase in the number of college-bound students who applied for SSACI grants, and individual awards were eliminated or reduced — in some cases by nearly 31 percent. Consequently, students who qualified for Higher Education Awards and Freedom of Choice Grants were notified less than one month before the start of the 2009-10 academic year that they would receive less grant support than indicated in their initial financial aid award.

"Recognizing that the current economic environment has placed a strain on families, Wabash has awarded grant assistance this year to replace reduced state grants for all incoming freshmen and returning students who completed the financial aid procession time," said President White.
"We stepped in this year to fill the gap so that our students could enroll this fall without additional loan, employment, or family contributions," White said. "In what has been a difficult year for so many families, it was the right thing to do."
Clint Gasaway, director of financial aid at Wabash, notified incoming freshman students and their families of Wabash's decision in letters that went out last week, while returning upperclassmen have been notified through email.
Wabash reached its Annual Fund goal of $3.125 million in contributions from alumni and friends of the College, which was another factor that enabled the College to provide additional grant assistance to students.
Wabash expects a freshman class of over 240 new students this fall. The liberal arts college for men has an overall enrollment of about 900 students.