Wabash College invites area businesses and non-profit agencies to participate in the Fourth Annual Wabash College Community Fair.
The open house-style event provides an opportunity for businesses and organizations to present themselves to the entire Wabash community. This year's Wabash Community Fair will be held on Tuesday, September 1 from 11 a.m. to 1:30 p.m. in the Knowling Fieldhouse.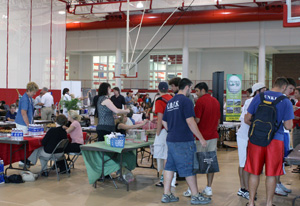 "The Wabash College Community Fair provides an excellent opportunity for Montgomery County businesses to showcase their services to over one thousand students and faculty at the College," said Wabash sophomore Adam Miller, who is one of two coordinators of this year's fair. "With the majority of students not being from Montgomery County, the Community Fair helps familiarize the students with the area businesses."
The Community Fair is directed by the Schroeder Center for Career Development at Wabash.
Participants are given tables and chairs to set up booths while students, faculty, and staff flow through during the mid-day event. Lunch is also provided.
According to sophomore Reginald Steele, who is helping to coordinate the event, non-profits are especially encouraged to participate.
"I got involved with a community service project called Camp Trails of Hope because they participated in the community fair last year," said Steele. "I also discovered some of the best restaurants in the town due to their samples at the community fair.
Participation in the Community Fair is free to non-profit organizations, and businesses can get involved for as little as $15 for the day.
"It's a great opportunity for the Wabash community to become aware of what Montgomery County has to offer, from churches and service clubs to banks, restaurants, and even places where the students can get haircuts," added Steele.
The deadline to register for this year's Wabash Community Fair is Saturday, August 1. For more information, contact Miller (
admiller12@wabash.edu
) or Steele (
rnsteele12@wabnash.edu
) directly, or call the Schreoder Center for Career Development at 361-6414. A registration form can also be downloaded from the Internet at http://www.wabash.edu/careers/