A little persistence led to a major reward for Wabash track coach Clyde Morgan.
Morgan will join over 30 other sprints, hurdles, and endurance coaches next week at the US Olympic Track and Field Training Center in Chula Vista, California at the USA Track and Field Emerging Elite Coaching Camp. The six-day camp will include training, practice drills, and instruction for a period of nearly 12 hours daily from coaches such as UCLA sprints and hurdles coach Tony Veney and USATF Junior Elite Coach Charles Clinton.
The chance to go to the coaching camp nearly slipped by Morgan had it not been for another instructor — retired Wabash coach Rob Johnson, who will also be a presenter in Chula Vista.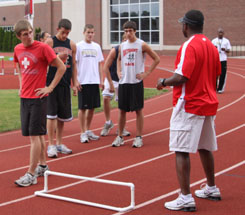 "Rob kept telling me over and over again I needed to fill out an application to attend this camp," Morgan said. "I told him I didn't think I was ready and they probably wouldn't select me anyway. He kept bugging me about before I finally walked into my office one day and saw the application sitting on my desk with a note that said 'You have three days to fill this out and send it in to the USATF office.' At that point I knew Johnson was serious about trying to get me out there."
The opportunity arose after Morgan served as a presenter for the Indiana High School Track and Field Coaches Association at the group's annual meeting in Indianapolis.
"Clyde really impressed the high school coaches with his training drills for 100- and 300-meter hurdlers at the state convention," Johnson said. "Mike Holman, who serves as the coordinator for the USATF Elite Coaching Camp, heard Clyde's presentation and wanted to try and get him to the camp this year.
"Holman, the Lawrence Central high school track and field coach, is a big-time coach. He went to Beijing, China with the US team as a video analysis expert to help with training. Holman seemed interested in getting Clyde out there, so I kept pushing until he finally filled out the application."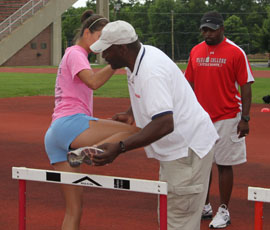 Only the top coaches with highly-ranked high school or college athletes are selected. Morgan's work at Wabash and Thiel College, his previous head coaching position prior to taking over the Little Giant program when Johnson retired, made him a top candidate.
The goals of the camp as stated in the information sent to each coach are "to develop a deeper coaching pool in the United States, to continue to develop elite athletes to medal potential in the Olympic Games and World Championships; and to develop elite coaches in a learn-by-doing format, using coaches that have 'cracked the code' in their individual events at the Olympic Games and World Championships."
Johnson and Morgan will also work together at the camp. Johnson, who served as an assistant coach for the US Olympic Team in Sydney, Australia for the 2000 Games, will provide relay training and instruction for the group. The two have already spent time this summer working together at Morgan's summer hurdles camp for area high school students.
"The great coaches never stop learning," Morgan said. "I would go through a drill with our high school students at my camp, and Coach Johnson would come over afterward and ask me if he could write down something I had said or a drill I had done. Being around coaches like Johnson, Bill Ross at Allegheny, and Cyrus Jones at Lincoln have made me a better coach. At the same time, I have an opportunity to share something new with them."
Morgan would love to follow Johnson's path and perhaps someday serve as an Olympic coach.
"I've been blessed with this chance to participate in the Elite Coaches Camp," Morgan said. "It's an incredible honor. It would be unbelievable if it ever turned into a chance to do the kind of things Coach Johnson has done.
"That's one of my goals and dreams — to be an Olympic coach. When I was younger I saw myself representing my country as athlete or coach. The chance to do it as an athlete is long gone. Now I would like to do it a coach to represent my country and Wabash College on the world-wide stage."
Photos - (top left) Wabash head track and field coach Clyde Morgan prepares for a drill during his summer hurdles camp.
(Bottom right) Morgan watches as former Wabash and Olympic coach Rob Johnson works with Mikaila Chamblee on the position of her foot as she clears the hurdle.