A program originally designed for girls has been modeled now for boys and held on the Wabash Campus July 20-24. Inner-City Chicago youth entering their sophomore year were on campus to participate in the STEP UP Project Coach Program.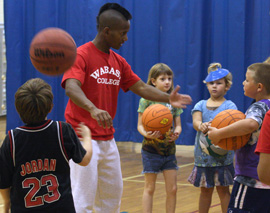 The program seeks to provide young men with an opportunity to explore their talents and interests related to coaching, while learning about College life.
Dean of Students Michael Raters headed up the week-long residential camp with staff from Smith College,
where the program was founded
, and a couple of Wabash student volunteers.
The 10 Chicago boys lived on campus and had a wide variety of experiences, including working most days with small children at the Montgomery County Boys and Girls Club.
"The concept of men leading young men to lead young children is consistent with our mission to both "lead effectively and live humanely"; consistent with many similar programs that exist during the academic year (College Mentors For Kids, MXI's KQ and K, etc.)," Raters said. "The good relationship our men have developed as volunteers and coaches at the local Boys and Girls Club paved the way for these young men to practice their newly-gained coaching skills with the summer day camp kids at the Club. And summer leadership camp experiences in the President's and my background made it a relative no-brainer for us."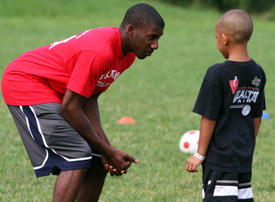 Mike Beemer, a long-time friend of the college, approached President Pat White about hosting the program. Smith trustee and foundation executive Linda Salisbury, who works out of Chicago, and Joe Sukup, an attorney and youth advocate in the Benton Harbor, Michigan area, proposed bringing inner city, high school sophomores from those two areas to Wabash.
Andre Adeyemi '12 (in photo, at right) and Charles Goodman '10 were two Wabash students helping 'coach' the young coaches. "It's been interesting because the 16 year olds are having a tough time getting the little kids to do the activities," Adeyemi said. "I'm the oldest guy trying to teach the 16 year olds to do stuff and they're seeing the entire process in trying to teach the 8 year olds. I think it's making them more mature."
Jerry Bowie, Center for Academic Enrichment, has helped with logistics while Brock Graham '09 has assisted with the student coaches and overseeing the living unit.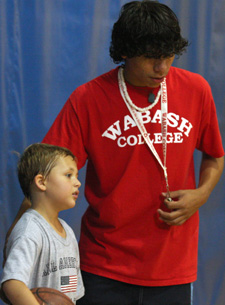 "The program enables us to provide a great on-site college experience to young men who might otherwise not be able to see themselves going to College (ours or otherwise); it enables the College to develop deeper relationships with cities relatively close to us (good both in terms of recruitment and positive public relations); it provides some staff and students an opportunity to positively impact young men in a summer experience and, accordingly, our/themselves in the process; it allows us to "spread the fame of her honored name" amongst Project Coach staff personnel who come from several areas on the East Coast (primarily Rhode Island and New York); it enables the College to yet again positively impact our local community via the work with Boys and Girls Club."
The day time activities with the young children at the Club were just a small portion of the project. The Chicago youth also had the opportunity to work with Wabash coaches, admissions, career services and financial aid personnel. The goal is to set them up for their future which hopefully now includes college plans, Raters said.