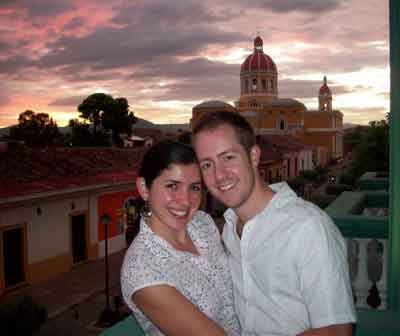 When he saw the job description on the People Improving Communities (PICO) Web site soon after graduating from Harvard Divinity School, Zach Hoover could hardly believe what he was reading.
"I didn't know what a community organizer was, but I knew that I wanted to do something where I could speak Spanish, I could make a difference in the social system, I'd get to interact with people, and could work with faith communities," Hoover recalls. "I read that job description for a community organizer for the PICO affiliate in San Francisco and thought,
No way!
It seemed almost too good to be true."
Zach Hoover thought he'd found his calling.
But an early encounter as an organizer in California's Coachella Valley could have given the former Wabash religion major cause to question that judgment.
The man's name was Raul, a middle-aged Mexican immigrant who had lost his sight several years earlier and had been marginally involved with Inland Congregations for Change, the PICO group Hoover was working for. Zach had been in the area for two months when Raul confronted him.
"You need to do more for this community," Raul told Hoover in Spanish.
"It really threw me off, because I was trying to understand what he meant by that," Hoover says, then laughs. "And what Raul didn't realize was that there were all these people standing around when he said it!
"I decided we'd have a one-on-one, later, about this—we didn't have a very strong relationship at that point."
That would change, as would Raul and his mostly low-income "Dream Homes" section of Cathedral City, California.
"But first we wrestled in these conversations, he and I, with my role in all this," Hoover says. "I asked, 'Am I here to do the work for you?' Maybe your last organizer had some habits that weren't good for your development as a leader, so you come to me expecting me to make your phone calls, set up meetings with council members for you.."
The latter would break the organizer's Iron Rule: Never do for others what they can do for themselves.
"Many people have this American service model 'fill-the-need' mentality. I prefer the 'put-the-opportunity-in-front-of-someone-and-challenge-them" approach.
"We use the phrase 'think with'— to 'think with someone—and I think the best organizers really know how to think with people," Hoover explains. "As a community organizer with congregations, I help train leaders in congregations and synagogues, help them ask themselves and those where they live, 'What are the dreams you have for this community?' 'What are the worries you want to do something about?' How do you collectively move in a way that's powerful and that speaks to your values in the public arena?'"
For Raul, becoming a leader in his community had direct parallels to rediscovering his independence after losing his sight as an adult.
"He began to connect the learning and growth he was experiencing to his journey from blindness and depression to mobility and independence—how he had learned to use the computer, and the internet, and done things he'd never tried when he'd had sight," Hoover explains. "As we walked together over the last three years in his community, you could tell that the two things were feeding each other. He would bring these examples into our conversations—he had this rich experience outside of what we were doing together that deepened his ability to be a leader and push others to do things they wouldn't have done before."
He pushed himself, as well.
"Three years ago he was very nervous about public speaking, but the last year I was there he gave a 10-minute research report at the community meeting and just nailed it," Hoover says.
Raul's development as a leader coincided with major improvements his Dream Homes neighborhood of Cathedral City.
"So this wasn't just a warm fuzzy story of leadership development," says Hoover. "This all happened while he is working with others to improve a community that had been ignored by the city. They were having victories that Raul can point to when someone walks with him around the neighborhood, and to see all these things come together at once—that's the kind of impact I want to have."
Hoover was married in December to Nicaragua-born Saskia Pallais, whom he first met at Harvard Divinity and is director of development for a Los Angeles non-profit working to accelerate student achievement in the city's schools. Hoover now works for LA Voice, a sister organization to the group he worked for in the Coachella Valley.
"It's the kind of work you could do 90 hours per week and still feel there's more to do, but I'm getting better about setting my personal boundaries," Hoover says. His own spiritual journey has been deepened by this work.
"When I was at Wabash, although I was a religion major, I was creating a lot of space between myself and the Baptist religious tradition I grew up in. I said I wasn't a Christian, and I didn't go to church. But you read Bible passages differently after you've been organizing for a couple of years. Jesus starts to look a little different. You start to see some principles in your organizing at play in ways that you didn't see before.
Hoover is now only a few steps from ordination in the American Baptist Church.
"Even when I was young, way back when I was in the fourth grade, I believed that the Gospel is supposed to transform things. Now I feel like I'm part of that.
"There's a great phrase—'We make the road by walking.' That sums up for me a lot of things about organizing and the Gospel.
"I'm blessed to be able to do this."
In photo: Zach Hoover and his wife, Saskia.