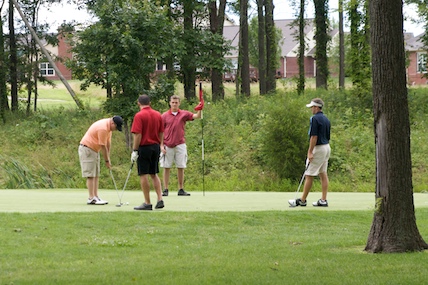 105 Wabash golfers from around Central Indiana enjoyed mild temperatures and sunny skies during the 2009 edition of the Mitchum Crock sponsored by the Indianapolis Association of Wabash Men (IAWM). Temperatures in the mid-70s and plenty of sunshine made for near-ideal conditions.
When the round was over, the scoring showed a lot of good golf. Two teams finished at 57 - that's 15 UNDER par. However, given the "unique" Crock scoring system, the winners were Jerry Shonkwiler '77, Lu Hamilton '76, and their sons.
After dinner, IAWM president Jim Kerr '92 thanked Lee Clark '73 and his committee for all their efforts to make the outing a success. Jim also introduced Wabash President Pat White. Pat took a little time to outline the various destinations of the just-graduated class and also provide an insight into the new freshman class - the Class of 2013!
For more photos, click
here
.