Lawyers with a Wabash education provided a dose of realism for the nearly 50 High school students on campus learning about business.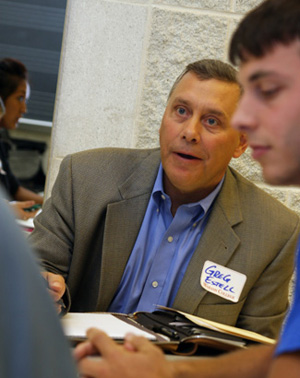 The Opportunities to Learn About Business (OLAB) program entered mid-week with the students facing a realistic challenge of having to negotiate a labor contract. The Wabash alums represented fictitious labor unions to the budding companies dreamed up by the students.
See pictures from early in the week here; see pictures from Thursday's tie-dying here; and see pictures of all 10 teams here.
The students spend a good portion of the week in exercises and a classroom setting learning about business. But at midweek they have to face the lawyers set on gaining concessions and testing the limits of the students' business plan, finances, and ability to negotiate.
"It's a lot of fun, you get to see how the kids act under pressure," said Greg Estell '85. "You throw some humor into the situation as well and see how they respond. It's really interesting, some stick to their guns well and others tend to wander. But these are bright, good kids. They take the task really serious and want to do a good job."
While professional staff guides the students through the workshop portions of the week, it's the alumni who bring real-world experience to the program.
"Bringing Wabash alumni to campus to participate in OLAB is one of the enduring strengths of the program," OLAB Director Jim Amidon said. "These guys are out there in the real world - they are lawyers and negotiate contracts all the time. So they bring to the program a sense of authenticity that allows the students to take topics from the conceptual level and put them into practice.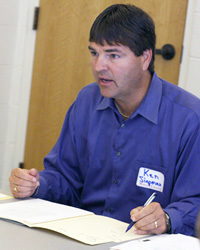 "I don't know how many colleges have alumni so generous with their time, but I know guys like Jon Pactor '71, Ken Siepman '87, Brad Johnson '71, Rick Cavanaugh '76, and Greg Estell '87 are great examples of how invested our alumni are in what happens at Wabash — even with a program for high school students. That generosity of spirit never ceases to amaze me."
It's easy for Siepman to explain. "I enjoy it," he said. "It's a chance to interact with youngsters who are trying to learn about business and gain some insight. It's also an opportunity to interact with some of the people at Wabash I have known. I practice in this area of the law, though I represent companies in negotiations. It's really neat to have the opportunity to give back a little bit."
Following the Wednesday morning labor negotiations the students spent time learning about marketing and will craft a marketing plan and produce a television commercial. They're expected to carry out the concepts they've been learning throughout their plans and presentations.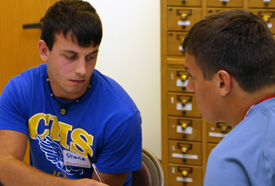 "The students are clearly getting to the point in the OLAB week when they are tired of sitting through lectures and workshops, and they're now ready to play the game -- the OLAB business simulation game," Amidon said.
"Over the next 72 hours, things will move incredibly fast as they develop marketing strategies, create and implement advertising campaigns, and make difficult financial decisions in an increasingly competitive environment. These next three days are the essence of the program and bring out the best in the students."
The program is in its 37th year and concludes Saturday afternoon with a graduation program.
In photos: Upper left, Greg Estell works for more concessions for his labor union. At center right, Ken Siepman tells the group they're "going to have to do better." At bottom left, students are left to re-work proposals as the lawyers want more and more concessions.