The Summer Business Immersion Program has wrapped up another year giving Wabash men a practical application of their liberal arts education and direction on how to succeed in the business world.
Twelve students started May 18 in the summer program built around lectures, class work, case studies, on-site visits, and sessions led by businessmen and Wabash alumni. The course highlight came Thursday when the students presented a hypothetical business plan.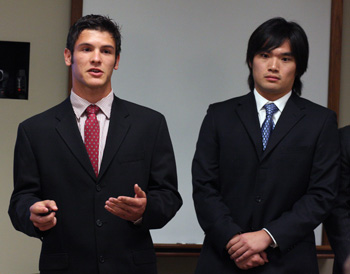 The Summer Program isn't new to Wabash but now is part of the
Business Leadership Program
, funded by Lilly Endowment Inc. The leadership program brings together Wabash classroom work with practical experiences like the Summer Immersion Program and the spring break Marketing Immersion class.
"We got exposed to many aspects of business," Saidel Mayer '10 said. "In addition, we got to meet successful alumni who had started businesses right after graduation. Once you actually get to meet those kind of people you get to see how prepared you are or what you should do to get prepared at that level."
The students made presentations to judges Thursday, including two Wabash alums. Derrick Yoder '11 and Juan Cricco '10 started by sharing their impressions of the program. Yoder, an Economics major, was concentrating on finance before going through the program and now may consider starting his own business after graduation.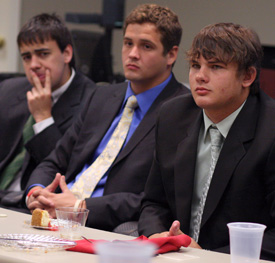 The judges' panel reviewed each group's work and shared the pratfalls of going to a bank or venture capital firm for financing. They challenged assumptions, made suggestions, but came away impressed with the presentation skills and thoroughness of the student presentations.
"It helps students get a sense of what the opportunities might be outside of Wabash," said Mike Simmons '88 who works as a sales trainer for Eli Lilly & Co., Indianapolis, "In terms of the business community, it helps them build the appropriate skills so they can be successful."
Simmons has been involved with the summer program since its inception. He thinks it is a valuable asset to those young men wanting to go into business.
"It gives them some sense of how they can take their liberal arts education and actually apply it to a business setting, which I think is unique," the English major said. "I think many students struggle with that applicability and I think this really helps."