Wabash has been recognized by one of the nation's oldest college guide books as a "Best Buy" school. Fiske Guide to Colleges selected 44 best buy schools across the nation. Wabash was one of those best buys!

"The college focuses on academics and prides itself on intensive and rigorous programs," the guide said. "Intense bonding is an important part of the Wabash experience, and few co-ed schools can match the loyalty of Wabash alumni. All-male Wabash has not only prospered but also remained true to its conservative academic and social traditions."
The updated 2010 edition of Fiske Guide to Colleges features 44 Best Buy Schools. Those institutions are based on the quality of academic offerings in relation to the cost of attendance. To determine the list, Fiske researches combined the cost data with academic and other life-style information about each college and university to determine what institutions offer really remarkable educational opportunities at a relatively modest cost.

"One of the lesser-known facts of life about higher education in the U.S. is that price and quality do not always go hand-in-hand," said bestselling author
Edward B. Fiske
. "Tuition and fees alone now run at least $6,000 at a typical public university and close to $30,000 at a typical private college, and the overall tab at the most selective and expensive schools now top $50,000. A major investment like that should be approached with as much information as possible."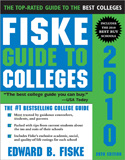 To be qualified as a best buy institution, Fiske takes into account many qualities such as: four- or five-star academic rating, inexpensive or moderate price category, and quality of student life on campus.
The Fiske Guide does not accept advertising or any fees from colleges. It has no relationship with any of the colleges it reviews. The Fiske Guide's goal is to help future students select the best colleges to reach their own goals in a price range that is manageable for their personal circumstances.