Dan Gable has had a lifetime of remarkable accomplishments as a wrestler and wrestling coach. Now, he spends his time grow ing and promoting the sport.
Many Division 1 schools cut wrestling and swimming when equal funding for women's sports became a federal mandate. "If you have a good product and you're doing a very good job and it's entertaining, it's harder to be cut," Gable said. "Obviously we had a lot of easy ones (to cut) for awhile."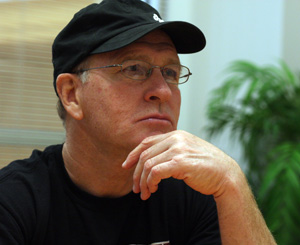 Gable was the star attraction for this year's Brian Anderson Little Giants Wrestling Camp. He was the clinician Wednesday.
They key to wrestlings stabilization has been a much stronger coaches' association with full time employees. "College wrestling is now holding its own," the Olympic champion and former Iowa coach said. "For as many programs as we have dropped we've probably added more, but for awhile it was a disaster. There are 260,000 kids having only 7500 opportunities at the collegiate level. You know, that's not a good ratio."
But he believes the tide is turning for wrestling and points to the Wabash wrestling camp as an example. "I was pretty excited. I had no idea what to expect," Gable said. "But today I about died when I saw 10 mats or 12 mats out there. I said to coach; You're doing a good job.
"Indiana used to be a basketball state, now it's a wrestling state, huh?
"You see all these kids and you come here and you see this and you think there is no reason our product shouldn't be booming at that next level,"
One of the reasons Anderson's camps have grown so big is the prominent wrestlers he's brought in as clinicians. "The names have helped it grow a lot over the five years," Anderson said. "A lot of these kids are becoming Wabash students and that's why we did it. We have three or more incoming freshmen here who've been to my camp three years in row."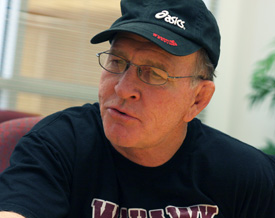 Gable was thrilled to see the young kids and made a point of telling them their sport has to remain entertaining.
"Your mom and dad are there or brother because it's personal," he explained. "It's pretty invasive when you see somebody you like or love getting their arm twisted or they're twisting somebody's arm. What to me is entertainment is when you have somebody that just comes and doesn't have any ties. That means you have to do a lot of holds and you have to be aggressive and you have to try to score a lot of points. It can be very exciting."
But not all wrestling is as exciting as it could be, Gable said. He isn't happy with the state of Olympic wrestling where stalling is seldom called. "Right now our Olympic level doesn't seem to be very entertaining. Sometimes when you watch two people stand in one position, and they do it for 30-40 seconds or two minutes you have to question what they're doing. I guess I question the rules a little bit.
"If you want to improve your sport you have to make it so people want to watch it."
Gable doesn't work camps the way he once did. He gets many requests but has cut back to be an ambassador for the sport and because of the beating his body took for the many ears of competition and coaching at the collegiate level.
"I don't know how many of these I've done, but too many. I like to do them but it's hard on you. I'm beat up."
Anderson worked for 2-3 years to get Gable to come to Wabash. This week's camp was just the wrestling legend's second of the summer. His reach goes beyond the young athletes' understanding.
"Coach (Anderson) has a lineup of stars here," Gable said. "He has had some big names. I've had something to do with all of them, really."