Dr. Tim Lake is hoping five weeks in Africa helps him create a class on slave trading and enhance his efforts to improve African studies at Wabash College.
Lake is in Senegal and Gambia with 14 other educators on a
Fulbright-Hays Seminar
, funded by the U.S. Department of Education. The teachers are from grades K-12 and college faculty. Lake is a Wabash English Professor and Director of the Malcolm X Institute.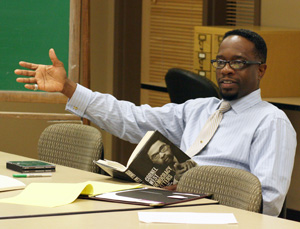 Lake, with the approval of the Dean of the College, joined the educators last summer at Hendrix College in Arkansas to work out their grant proposal. "Our focus was Africa and how a stay-abroad program could enhance our teaching," Lake said. "It's a chance for me to do some on-the-ground study in slave trading."
Each of the 14 members of the group have individual interests but creating the class on slave trading will be the over-arching project. The two weeks in Gambia are particularly exciting for Lake, because they plan to visit Kunta Kinte's village of Jufferee. Kinte was the central character in Alex Haley's iconic made-for-television movie of the 70s, Roots. Haley contended he was a descendent of slave, Kunta Kinte.
"We're going to be going to Goree Island, one of the oldest slave castles still existing on the West Coast of Africa," Lake said. "It was a holding spot for slaves."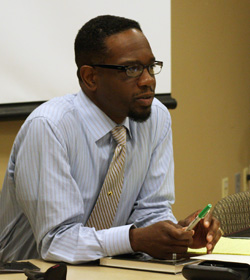 The group will participate in lectures given by professors at the University of Senegal and University of Gambia. They will visit parks and be on the ground in villages and communities key to the days of slave trading.
Lake said the trip is personally and professionally very meaningful.
"It's personal. It's research. It's how you gather information to bring back to classroom," he said. "I'm excited to bring back the materials. It's important for me to get as much documentation as I can gather, including video and still images. And I want to have as much contact with the local people
"That kind of immediate gathering of data unfolds all kinds of pedagogical opportunities for the classroom … to talk about and to keep Africa alive in the present day and at Wabash where we don't have African studies."
Lake will be writing about his experience throughout the tip. His first entry can be found on the 'related' link above right. Look for his reports throughout his five-week stay.