There's a lot of spirit in the Wabash Class of 1959 and it was on full display at the 2009 Big Bash Banquet. More than half the class returned to set a Big Bash record for highest attendance at a 50th class reunion.
Pictures from the evening can be found here.
And see the guys who came back for reunions here (at least those who showed up for class pictures).
More than 70 alumni — and even two widows — returned for the Sixth Annual Big Bash Reunion Weekend.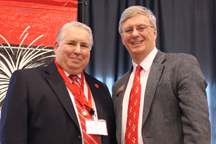 Led by terrific class agents and reunion volunteers — Bob Wild (right), Hoyt Miller, Sherm Franz, and Tony Dowell, among others — the class also surpassed its 50th reunion gift goal.
The mighty Class of 1959 honored President White with a check for more than $1 million for the College — and Gift Chair Dowell said he thinks there's more money to come.
President White was honored by the depth of friendships within the Class of 1959 and the breadth of their generosity.
"I thank the Class of 1959 for this wonderful gift, for the loyalty it represents, and even more for the dreams for the future of the College that will endure and thrive long after we are gone," said President White. "I thank you all for continuing to love this College and to recognize in one another Wabash at its best.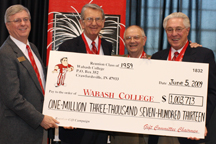 "With loyal eyes you see again with the eyes of young men, the hopes and possibilities of this College, and Wabash remains forever young in your eyes, forever full of possibilities and promise for all the men who have come after you and will continue to come to this College, men who, like you, will recognize the greatness in themselves and in their brothers and live for the rest of their lives transformed by the experience of this great College."
It was a grand evening that capped a gorgeous first day of Big Bash '09. Alumni Director Tom Runge '71 said the 440 people at the banquet was the most ever. "We had 250 alumni sign the Alumni Register on Friday alone," Runge said. "That's more in one day than we had during the whole weekend when these guys were back for our inaugural Big Bash in 2004."
Bob Wild, who has served his class so well for half a century, had the honor of receiving his 50th reunion medallion from President White first. He then got to introduce each member of his class as they came to the stage to shake the president's hand and receive medallions. Included in the group were two widows — Nancy Smith, wife of Don Smith, and Sophia Carr, wife of Bob Carr.
After the class received its medallions, President White addressed the crowd — but was speaking directly to the Class of 1959.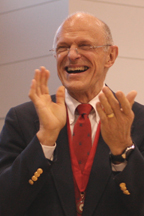 "You see you have never really left Wabash, or to put it a better way, Wabash has never left you," he said. "And the men who were your teachers then still have an influence as friends as brothers.
"Wherever you go, there is Wabash. To your friends, your associates, to potential students and friends of the College you are Wabash College. When you give voice to the mission of the College through the way that you think critically, act responsibly, lead effectively, and live humanely, Wabash sings through you, and it is a beautiful song indeed."
One of the highlights of the evening came after the medallions and the president's speech. Bob Nelson (right) served as song leader and former Glee Club members from the Class of 1959 took the stage for a few tunes, including a hilarious version of "If You Marry an Ugly Woman" with lead solo by Art Fontanes, and a wonderful medley of Wabash-related songs that ended with the chorus of "Old Wabash."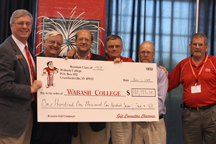 While the night belonged to the 50th reunion class, the Class of 1969 also rose to the occasion. With a big group back for its 40th reunion, representatives gave President White a check for more than $100,000 as a seed gift to kick start the 50th reunion gift — 10 years from now.
"Though your faces may change, there is always and forever something at the core of who you are as Wabash," said President White. "Sometimes people remark, 'isn't it amazing that college can have such an influence on our lives, loom so large in our understanding of who we are? After all it is only four years…. or for some maybe five or six.'
"But the great lesson of our gathering together for Big Bash, of course, is that Wabash is not just a short lived experience you had five years ago or 50 years ago. Wabash travels with you wherever you go."