Artist; if he could be described as anything, that is the word Marcus Doshi '97 would choose. The second generation Indian-American from Mishawaka, Indiana, spent the past decade as a professional lighting designer.
He attended the prestigious Yale School of Drama, designed a nationally-televised opera in Cambodia, and recently garnered an excellent review in the New York Times for his light design of the off-Broadway rendition of Shakespeare's Othello. That unexpected kudo was followed by a Drama Desk Award nomination for Best Lighting Design.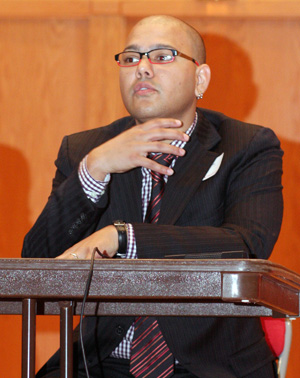 Doshi's successes in the light design world speak for themselves. However, if you asked him for a word to describe his future plans upon entering Wabash, he would have said something very different.
"I wanted to be a doctor," Doshi said. "When I came to Wabash, I wanted to be a pre-med. My freshman tutorial was from the science department; I had a bio class and a math class and I took the introductory course to set and light design class because my high school TD (technical director) thought I might enjoy it. I thought, ok, I'll get a requirement out of the way right off the bat."
Like many freshmen, Doshi found his first semester to be almost overwhelming. With challenging coursework and the difficulties of pledgeship, he found solace in the theater design course he took on a whim.
"What precipitated out of that semester was that I was not enjoying the science classes," he said. "It was work. It was work in the worst possible way. Here was this weird design class where I was staying up until 4 a.m.. because I loved it and had so much fun doing it. I started talking to the theatre department that semester and was involved in productions and realized there was a possibility of a career there."
In terms of his future career, 'Doshi as a doctor' was something his parents could easily understand; 'Doshi as a light designer' required some convincing.
"My father is an immigrant from India and he's an engineer by training and a small businessman in Mishawaka," he said. "So there's this pragmatic streak in my family. I was allowed to consider theatre because there was an actual job at the end of the tunnel, perhaps. It was really hard because my parents completely flipped out. My dad had a fit. He literally called (Theater Professor) Mike Abbott and asked if this was feasible."
Doshi could not have come along at a better time for an aspiring theatrical light designer. In 1996, former Theater Professor James Fisher directed part one of Angels in America. Wabash was one of the first colleges in the nation to produce the play that has become a cornerstone of American theater. Angels was perhaps the most influential play Wabash had ever done, and Doshi designed the lighting for it.

"It was a huge production," he said, "the largest thing I had ever designed. At the time Ball Theater was much different than it was now; it had a lot less technology so it was hard, hard work. I knew what was possible and I had a vision for what I wanted to do but it just meant a lot more work for everyone involved."
Doshi realized the hyper-political nature of the show and how strongly divided the student body was over its message and content. Because it was such a massive undertaking for an undergraduate light designer, Doshi couldn't dwell on any outside commentary.
"Angels completely polarized the campus," he said. "We thought we were going to have protests on opening night, we didn't know if we were going to go up, there was a lingering question of how we were going to do the sex in the park scene. In a way, I was lucky because I was so concerned with just getting it lit that I didn't really have much of a chance to participate in the politics of it."
Doshi is an independent contractor, marketing his skills to theaters all across the world. His business of light design, he said, is built on relationships with other participants in the theatrical process and their desire to use his skills and vision for the production. Doshi noted that such an amalgamation of business and art is an oddity.
"It's half business and half art," he said. "It's kind of like being a painter, but it's also kind of like being a software consultant. There isn't a really clear, analogous model outside of the theatrical world. Half the time I'm negotiating contracts for liability and the other half I'm going 'what is the dramaturgical necessity of this light being on at fifty percent and it then coming up on a five count? It's such a bizarre job."
Such a job that requires one to straddle two sometimes contentious worlds like business and art in a successful way requires a person that can accurately be described in two words – Wabash man. Doshi credited Wabash for giving him the intellectual toolkit to do well as an artist; the same tools a doctor would need for success.
"The thing that I love about Wabash was that it was almost like the answers don't matter," he said. "It's more about are you able to formulate effective questions; and why are you asking those questions, and are you prepared to follow the paths that the answers of those questions reveal."
"I always make this joke about C&T: I took C&T so I can do anything," he said. "I feel like the education I got here prepares me to role with any punches life throws at me."