Rod Kenley '72 could be the ideal entrepreneur to spend time with the Summer Business Immersion Program talking about the highs and lows of starting your own business.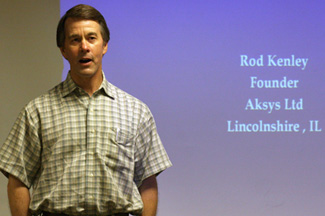 Kenley, founder of Aksys Ltd. which was developing new at-home technologies for kidney dialysis, spoke to the summer business group again this year and shared his incredible journey through entrepreneurship. The story is a complicated one with more ups and downs than any college textbook could ever cover.
He graduated from Wabash with a degree in biology and worked for Quaker Oats for a year before heading to Northwestern University to pursue a business degree. One course in new product development and entrepreneurship and he found his life's direction.
He eventually went to work for Baxter, in Chicago, a company that manufactures artificial organs and medical devices. He quickly became involved in new product development. After many highs and lows in the large corporate world he left to form his own company creating and marketing a home hemodialysis machine. The company was called Aksys. Ltd.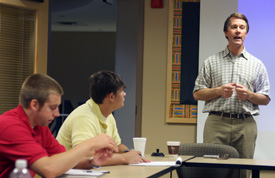 His ups and downs are far too many to document but include:
-          - An often contentious relationship with Baxter, including being fired in 1991;
-          - Adventures in raising venture capital for Aksys that led him through a network of old friends, connections to Baxter, and traveling around the country seeking funds;
-         -  Living for months as funds dwindled in his personal account;
-          - Watching his net worth go from $200,000 to more than $15 million in a few days when his company went public, and then to watch the value fall precipitously as mismanagement slowed product development;
-          - Seeing a Hedge Fund Manager illegally buy up Aksys stock and end up in prison to this day;
-         -  Being replaced as CEO in his own company and eventually returning to a key role;
-          - Seeing the company dissolve and then gain new life when entrepreneur Steve Kamen stepped in just a couple of years ago to buy Aksys' assets'
-          -  He now works for Kamen's DEKA company continuing to develop a home unit for the commercial market. Kamen's name might be familiar to many as the inventor of the Segway, the personal transportation device.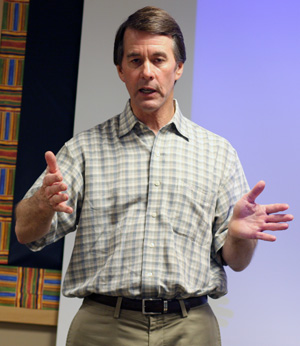 And that's just some of what he has gone through. But through all of the highs and lows he and an original supporter in Missouri have hung on to one key patent that remains very valuable. That asset remains at the heart of his ability to continue working on the home dialysis device.
Kenley has taken value in the lessons he's learned and now shares with business students.
"If you don't feel compelled to the point you're willing to sacrifice anything and everything then you probably shouldn't be doing it," he said of any new entrepreneurial effort. "You've got to realize there is going to be a lot of pain and suffering before you enjoy some of the benefits."
He offered the students a list of characteristics every entrepreneur should have: Passion, prognostication skills, persuasion and communication skills, tenacity and persistence, thick skin, resourcefulness, durability physically and mentally, knowledge, credibility, and understanding your personal limitations.
"These have been validated for me for more than 30 years of experience in business in big and small companies," he said.
He broke it down further by saying a successful launch of a new company requires the "three Ds."
Entrepreneurs require distinct competency, a differential competitive advantage, and the ability to defend their business against competitors.
He outlined the key components needed for a good business plan and suggested hard work is essential to acquiring financing and starting a new company.
"You need to keep your antenna up, know every aspect of your business, read materials, go to presentations and don't be afraid to work a job before continuing your education (MBA)," he said. "You've got to commit everything you have to make a new business go. You don't get a new car. You don't take a vacation and you change where you go shopping.
"You put a business plan together and then you start networking – banging on doors trying to find capital."
The Wabash College Summer Business Immersion program is an eight-week, full-time introduction to entrepreneurship. Staff and Wabash alumni assist in teaching the class and introducing the students to multiple facets of business. The summer program is a key component in Wabash's newly created Business Leadership Program.