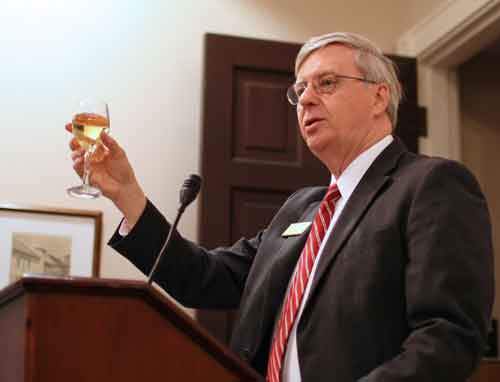 The College's time-honored tradition of senior speakers on Commencement Day doesn't mean that honorary degree recipients don't get their say. Speaking to friends, family, guests, and faculty during the Honorary Degree Luncheon in the College's International Hall on Sunday, this year's honorees offered some of the most heartfelt and insightful words of the weekend.
See a photo album here.
President Pat White welcomed all the guests and offered a toast to those being honored.
"Your achievements bring honor to the College in the example of lives well-lived," said President White. "With character and dignity, you serve as exemplars to all of us, especially to the young men who receive degrees with you today. We commend your careers and service and what you have accomplished; even more, we praise who you are. Gentlemen, we salute you."
Introducing former Notre Dame President Reverend Edward A. "Monk" Malloy, President White said, "We honor you not only for your leadership, but your way of leading. You have always led with grace, humanity, clarity of vision, and gentlemanly demeanor."
In a lighter moment, White noted that Wabash had defeated Notre Dame in football in 1905.
"You learned from that defeat, because for the next 23 years Notre Dame football went undefeated at home," White said. "Wabash is very happy to have provided that incentive."
"Actually, my main reason for being here is to schedule a rematch," Rev. Malloy said with a smile as he took the podium. "We have an open day in about 10 years."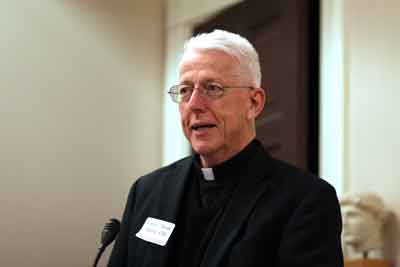 Rev. Malloy continued, "I have studied a little bit about the history of this institution, and I could see that there was a grand dream early on. But to see what that original dream has led to—the academic recognition that dream has led to through the years, the building up of the endowment, the focus on a particular kind of education and educational tradition, and sending off generation after generation people of great leadership capacity in every walk of life—that's something to be proud of.
"I'm proud now to be a graduate of Wabash College. I'll tell the story of the outstanding quality of the education that's available here and the great sense of tradition you share."
President White introduced Clay Robbins '79, President of Lilly Endowment, Inc.
"Long before I even thought about becoming president of Wabash, I was blessed by your leadership and mentoring," he said, recalling his work with Robbins when the president was dean and a project coordinator for grants at St. Mary's College. "Every conversation we've had over the years, I have walked away from having learned something that mattered.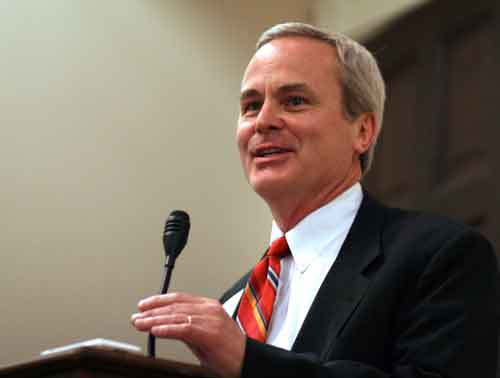 "I admire your achievement as a father to Wabash men," President White added. Robbins' sons Peter and Luke are Wabash students, and his eldest son Campbell graduated from the College Sunday. "Seeing their evident love and admiration for your life tells all of us that a great public man can also be a man much honored and loved, a great man of family."
Robbins, who was president of Phi Gamma Delta and won the John N. Mills Prize in Religion during his days as a student at Wabash, shared a conversation he'd had recently with a friend who had asked him, "What's the best thing Wabash did for you?"
"It's given me a sense of belonging to a community of men and some extraordinary women who think deeply and critically reflectively about the world and about life," Robbins had responded. "I have the opportunity in my work to engage with people from government, business, and the non-profit sector, and I can tell when Wabash men and people like them are involved in the conversation. They understand the larger context of the issues, they don't just look at them from an ideological perspective.

"I know that approach is not formed only in the classroom. It's formed because of the engagement that Wabash students have with faculty, with other students, and with the alumni who come back here and engage with the students.

"This notion of community is in some ways like the community of saints that was referred to in the hymn, "For All the Saints", sung so beautifully by the [Wabash Glee Club at the Baccalaureate Service]. I have found that, throughout my life, when I needed fortified, if I could drive to Crawfordsville and just walk around on the campus and look for comfortable faces and sights, I could have my spirits lifted."

"There's a French proverb that I have really grown to love—'Gratitude is the heart's memory.' Today I'm filled with many memories, and much gratitude."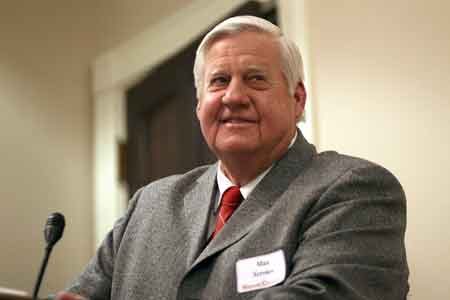 "In world in which mobility is seen as success and positions of authority are seen as stepping stones to higher accolades, you have been a rock of loyalty to Wabash College," President White said to the third honorary degree recipient, former Wabash Athletic Director and wrestling coach Max Servies '58. "Your lasting impact on many generations of the men of Wabash College is well known. They hold their great teacher and coach with lifelong affection."
As is often the case when Coach Servies speaks at the College, he was reminded of a bit of Wabash history.
"There's a story about [legendary Wabash football coach and athletics director] Pete Vaughan, a man of few words, as am I," Servies said. "Back in 1948, Pete Vaughan retired, and they had a little bash for him in Indianapolis. They had all the speakers and the paraphernalia there, and at the end of the evening, they wanted Pete to get up and say a few words. So Pete got up, looked around, said—'Gee, Gosh' for Heaven's sake; thanks a lot"—and sat down."
As the laughter subsided, Servies added, "Thanks so much for everything. I want to congratulate my two classmates who are about to receive the highest honor from the best small college in the world.
"For the past 55 years I've had the privilege of working with and for gentlemen of giant hearts. This honor is not about me, but the outstanding staff people and coworkers and administrators with whom I've worked and who have such great dedication.

"I give thanks to our Heavenly Father and our Lord Jesus Christ for everything they have done for me and for Wabash College all this time. And thank you to my friends, family, and colleagues for always being there."

In photos: President Pat White proposes a toast to the honorees; Rev. Edward "Monk" Malloy; Clay Robbins '79; Max Servies '58.