The Wabash College Teacher Education Program is pleased to announce that it has received a grant from the Margaret A. Cargill Foundation. The Wabash College Teacher Education Program will receive $10,000 per year for up to five years and an additional stock gift.
The Margaret A. Cargill Foundation grant will benefit future Wabash College students studying to become teachers.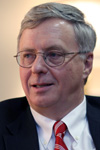 "This is great news and a great honor for the Wabash College Teacher Education Program," President Patrick White said. "Since the time of Caleb Mills, Wabash has been a pioneer in teacher education, and to be selected in the first granting period of this important new foundation is a sign of our ongoing excellence.
"Wabash is grateful to the Margaret A. Cargill Foundation for its generosity and farsighted commitment. The support will enable the College to continue innovation in educating Wabash men to be excellent teachers, teachers who will in turn continue to transform the lives of young people in communities near and far."
Ms. Cargill, who died in 2006, was the granddaughter of one of the founders of Cargill, Inc.,an iconic brand in agribusiness. She established the foundation to further interests in the environment, the arts, children, education, tolerance and conflict resolution, American Indian culture and education, and health.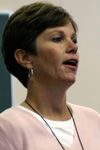 Teacher Education Department Chair Michelle Pittard said the grant will help support the continuation of one of her departments' most transformative experiences. Each spring teacher education students spend a week in Chicago's inner-city schools as part of the Urban Education & Cultural Experience Program.
"It has become a seminal part of the Education Program," Pittard said. "Much like other immersion experiences, we are finding the Chicago experience has a profound effect on students – opening their eyes to the rich diversity characteristic of urban schools."
Students write with great passion about their experience. A group of 15 teacher education students spent the week of May 11 in Chicago this spring.
"I came to Chicago with some negative assumptions about the city and the way in which inner city public schools operated," Brody Tarter '10 said. "In the five days that I have been in Chicago, I have learned that my assumptions about the city and schools were wrong. Prosser Academy has allowed me to see that inner city schools in Chicago are really just like any other school that I have been to.
"I have learned that working in an inner city public school can be challenging. But, teaching in any environment can be challenging. However, the most important thing I have learned from this experience is that I believe I am capable of teaching in a large city public school."
Professor of Education Deborah Butler said it was important for the Chicago experience to continue. But she also reflected on the strength of the teacher education program.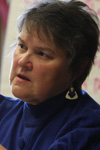 "We are able to provide a high quality teacher education for our candidates because we know them from their freshman or sophomore year," Butler explained. "The classes are relatively small, making it easy to assess students and making it easier for us to hear from them about what things work in our program. I think we succeed in part because we are able to be responsive to our students as learners."
Pittard said the grant was well-timed because of uncertainty about the future of the Chicago program. She also thanked the efforts of Senior Advancement Officer Nancy Doemel who helped obtain the grant.
Continuing the Chicago experience was one of the department's highest priorities, Butler said. "In the words of one of our seniors, Chicago was 'the most important experience I've had at Wabash.'"