A Wabash College education never stops at the classroom door. Job seeking skills are as much a part of the Wabash experience as the brotherhood and challenge of the liberal arts.
A group of Wabash students spent Thursday learning about resumes, interviews, networking and other best practices when looking for a job or internship during the Schroeder Center's annual Job Search Boot Camp. Wabash staff and alumni assisted throughout the day.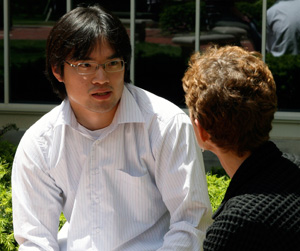 While the Schroeder Center staff provides plenty of resume advice throughout the year, some students found a second opinion from Ann Bilby of Cintas Corp. and Lee Anne McKelvey from Teach for America particularly helpful.
"I knew most of what they covered but it's interesting to get an outside opinion," Nick Schroeder '11 said. "I had been to Career Services and I thought there was like one way to do a resume. I learned in the morning session you can add something to make your resume look quite a bit different as long as everything is where it needs to be. But if you make it look a little bit different they'll be shuffling through a pile and think 'wait a minute.'"
Steven Woods '93 of Fountainhead Search brought his expertise to the College as he has on many previous occasions. He talked with the young men about interviewing. Then two alums talked about networking. Andrew Shelton '03, who founded Track Pack Coolers, and Josh Owens '07, who works for Angie's List, presented "Your Elevator Speech."
The afternoon sessions broke the skills down to job function and industry interest specifics with Dave Knott '69, AXA Advisors, talking about job search ethics and expectations.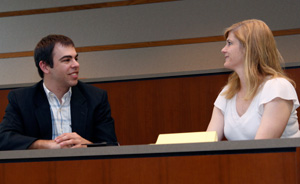 The middle of the day was the highlight for some. A group of alumni and staff participated in a networking lunch and then each student had a one-on-one mock interview.
Shelton participated in the mock interviews and wished something similar had been available when he was at Wabash.
"If there is anything that I can do to give back to Wabash, I'll do it," he said. "The support structure I've had from the school as a result of doing what I've done has been tremendous. They talk about that 'Wabash Mafia,' but I don't think I understood it. I know it had something to do with my reason for going to school here, but I don't think I had any concept of what it really meant or how valuable the career services system is.
"If there was anything I could have known while in school about going out in the workforce — concepts of how things work in the world or a mentoring system … or just knowing it was there — I would have snatched it up in a second."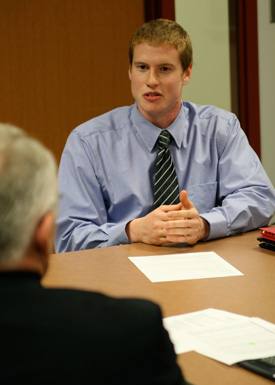 The challenge for students was to put together all of the skills they learned in a day full of good advice.
"I knew I wanted an internship but was not sure where I wanted to go with it," Schrader said. "I applied to more than a dozen places but I had a couple of interviews and didn't do the greatest at them. Today shows me that I can look back and see what I did, look at a situation, and see what I didn't do very well. I'm seeing things they told me today that I did (in previous interviews) that did work."
And it must have worked well. Schrader has a summer internship with a Lafayette, Indiana advertising agency.
Other alumni participants included: Marty Brown '06, Deloitte Consulting; Tom Reifenberg '04, Ford Motor Company; Chad Springer '03, Howard Regional Health System; Hugh Vandivier '91, Primary Colours; Jake Koeneman '07, Computer Sciences Corporation; and Shirish Ranjit '96, Entrepreneur.
Kim Johnson photos, Public Affairs