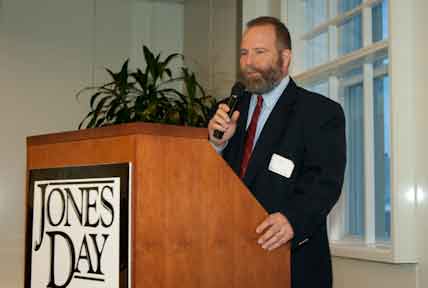 The National Capital Association of Wabash Men welcomed Wabash Professor of History and Acting Associate Dean of Students Rick Warner to the area Thursday evening, May 7th. Rick talked about his experiences on a student immersion course/trip to study Mayan Archaeoastronomy in 2008 and his year serving as the Associate Dean.
Rick, Professor Jim Brown (who is on sabbatical in Washington and attended the dinner), and Professor Dan Rogers led the student group. Rick's specialty is History, Jim's is Physics, and Dan's is Modern Languages. This course might have been the first one in history taught by a team representing all three academics divisions at Wabash.
Rick's presentation included many photos of Wabash students studying Mayan ruins and interacting with the local population of today. The students also spent some time on a community service project that entailed working on a new school.
After Rick's presentation, there were many questions about immersion trips, the current economic climate and it's impact on Wabash, and Rick's experiences as the dean. All together a great Wabash night.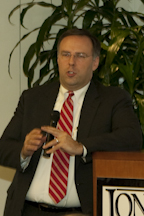 Many thanks to Greg Castanias '87 for serving as the evening's emcee and hosting the event at his law firm, Jones Day. Thanks as well to local president  Jefferson Crew '05 who organized a great turnout. Finally, a special thanks to Anne Donovan at Jones Day for all she and her staff did to make it a great evening.
For more photos of the evening, click here.
Photos:
Top - Rick Warner
Right Greg Castanias '87