The Indiana Classical Conference has named Wabash Classics Professor Joe Day its Outstanding College Teacher for 2009.
"The ICC applauds Professor Day for his selfless, unrelenting dedication to classroom instruction in Classical Studies at Wabash College, long recognized locally and nationally as a center of classical scholarship and learning," wrote Nicholas Rauh, the vice president of the Indiana Classical Conference and Purdue University professor.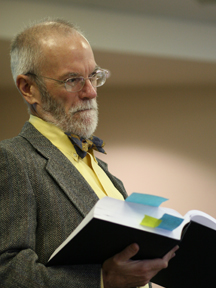 Professor Day joined the Wabash faculty in 1985 after earning his bachelor's degree from Gonzaga and his Ph.D. from Stanford University.
"Professor Joe Day is an exemplary scholar/teacher in a long line of life-changing Wabash teachers," said Dean of Wabash College Gary A. Phillips. "He brings an unrelenting commitment to excellence to the classroom, to his scholarship, to his professional society life, and to his service to the Wabash community."
"He has literally covered the field in his effort to furnish Wabash College undergraduate students a well-rounded background in Classical Studies," added Rauh. "At the same time, he has remained a consummate scholar (19 publications and reviews to his credit, a tireless supporter of Latin instruction in the high school, and a permanent fixture in the annual meetings of the ICC."
Professor Day has been active in the ICC, serving as its vice president and as the annual conference planning chair. Prior to coming to Wabash in 1985, he taught at the University of Southern California, Indiana University, and the College of Wooster.
He has been a senior associate member of the American School of Classical Studies in Athens, Greece. He is an expert on the Ancient Greek Epigram, rituals, and monuments, and has lectured on the subject at Harvard and Emory universities, among others. He delivered the eighth LaFollette Lecture in the Humanities at Wabash in 1988, "The Discovery of Archaic Greece: An Archaeology of Poetry and Art."
"Joe's lifelong dedication to his students, colleagues, and beloved field sets a very high standard not only for students, but also for his Wabash faculty colleagues," added Dean Phillips. "He teaches all of us what it means to be an outstanding teacher in a way that is deeply humane and intellectually rigorous."