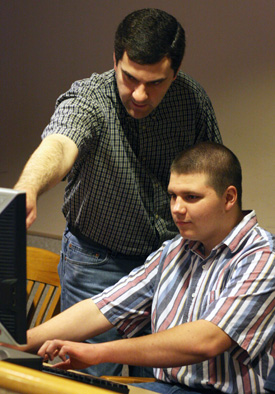 A computer can be a window to the world of education but for many community children access to computers can be an issue.
The Montgomery County Youth Services Bureau, Ivy Tech, and Wabash College set up a "Computers and Colleges are for Kids, Too" workshop Saturday to introduce young people to learning through computers and computer games.
Josh Brewer, husband of Wabash English professor Agata Szczeszak-Brewer, helped organize the program. He teaches at Ivy Tech. He opened the morning program in the Lilly Library computer lab by sharing statistics that show annual incomes for people with just a high school education, some college, and with a college degree.
"Therefore, even a basic education can make a significant difference in the lives of struggling families," Brewer said. "Some students claimed they still were not interested in college; some weren't sure; but others wanted to go to Wabash College, Ivy Tech, Notre Dame, Purdue, or St. Mary-of-the-Woods. Because the necessary funding seems to be out of the reach of many of these kids, I noted Wabash's generous scholarships and Ivy Tech's affordability."
But the highlight for the kids was getting logged on to the library's computers and playing games.
"It's an exciting program to get local youth onto campus to hear about college life and see that learning is often very fun and exciting," said Chemistry Professor Lon Porter, who volunteered his time Saturday. "(Theater Professor) Michael Abbott and I introduced the students to a few exciting video games that stimulate kids to solve problems, think creatively, and collaborate as a team. Quality games are often good teachers because you challenged to learn as you solve puzzles, received instant feedback, and enjoy yourself in the process."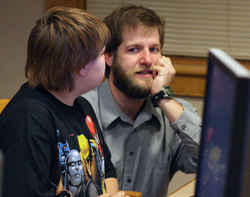 Abbott introduced the kids to his blog, The Brainy Gamer, and talked about the gaming industry and independent game developers.
"It seems so fun that children learn to deal with concepts in physics and architecture without even knowing that they are learning," Brewer said. "The educational fun masks the quality learning that takes place in a computer gaming environment. Adults accept that Scrabble, Monopoly, and card games can teach people things, but many just think of computer games as a waste of time and money. Abbott disagrees. He showed us games that prove otherwise."
The program was aimed to introduce local kids, ages 11-18, to the concept of attending college. The goal was to improve the kids' computer literacy and get them thinking about college.
"While we may take it for granted, many in the local community do not own computers or have access to the internet," Porter noted. "It was yet another way that Wabash is working to take a more active role in contributing to our local community."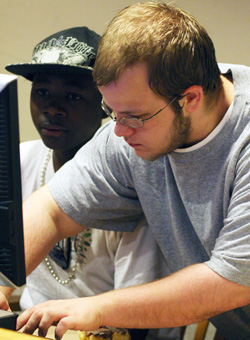 The younger kids weren't the only ones having fun, some bigger kids were too. Leo Helfer '12, Scott Pond '10, and Trevor Counceller '12 helped students log on to the computers and play the games.
"I thought it was a great opportunity, both for me and the kids involved," Councellor said. "They were a blast to work with and I was stunned at how much knowledge of computers some of them had, especially at their age. These kids are 10 years old and know computers better than my father! I enjoyed it enough so much that I'm planning on getting involved with the YSB locally."
The kids were identified by Nancy Hartley, head of the Juvenile Mentoring Program of the Youth Services Bureau.
In photos: Top Right, Professor Porter helps a student log on. At center left, Brewer works with one of the young people. At right, freshman Leo Helfer helps a young man get logged onto the computer.