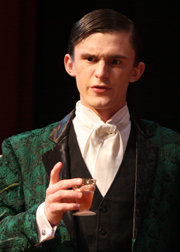 Stunning costumes, a Victorian set, and gorgeous lighting accentuate rock-solid performances in the Wabash College Theater Department's last show of the year, Oscar Wilde's The Importance of Being Earnest by Oscar Wilde. The show runs Wednesday through Saturday at 8 p.m.
Take a glimpse of the fun here.
Picture Luke Robbins as a very wealthy Victorian socialite, Algernon Moncrieff, and a bit of a creepy one at that. He sits politely eating cucumber sandwiches made for his aunt, while offering his old friend Jack Worthing simple bread and butter. When his aunt, Lady Bracknell arrives, the sandwiches are gone — there were no cucumbers at the market, says Robbins so properly.
It's not the first bit of deception in Wilde's attack on prudish Victorian society. Director Jim Cherry pulls out all the stops, too, and his work is draped in stunning sets by James Gross and gorgeous lighting by Tim Closson.
So here we are, in the airless drawing rooms of turn-of-the century England, where Jack and Algernon, both young gentlemen of quality, have created alternate identities for themselves in order to escape social constraints.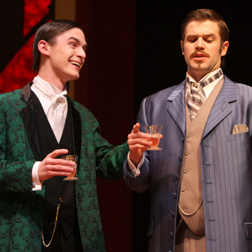 This play is funny, clever, dark, ironic, and absurd at times. The performances, though, are consistently first rate. Robbins (above left), coming off an incredible performance in Pillowman, takes the lead in this show and grabs the audience from the opening curtain.
Matt Goodrich, a senior veteran who has certainly left his mark on the Wabash stage, is again perfectly cast as Jack... or Earnest, depending on where he is at the moment.
In likely his last performance on the Wabash stage, Goodrich shines when he is being interrogated by Lady Bracknell, played brilliantly by Donovan Bisbee. His quivering lips and tingling fingers begin to give you a sense that there is some deception hidden beneath his city-slick exterior.
Patrick McAlister and Jordan Plohr play their parts well as Merriman and Lane, two stoic butlers who seem to know precisely what's going on.

James Morey, who is delightful simply reading the newspaper on stage, looks 60 years old as the Rev. Canon Chausble.
Bisbee is a show-stopper in a dress. With a Victorian hat nearly two feet tall — and Bisbee's own huge size — his, er, her presence is dominating.
And if you think you've seen Spencer Elliott in every role imaginable during his three years at the College, think again — think wig, dress, and heels.
Macie Rudoff of Wabash's IT Services group returns to the stage as the lovely Cecily Cardew, a country lady, while DePauw Professor Caroline Good stars as Gwendolen Fairfax, who promises to marry Jack or Earnest or who ever Matt Goodrich is playing while in the city.
The audience will absolutely love the intricately detailed costumes designed by the Theater Department's costumer, Andrea Bear.
It's a mixed-up, far-fetched production not to be missed. A cast of stage veterans bring Wilde's creation to life with flawless direction by Cherry.
Notes: The full cast list includes Matt Goodrich as Jack Worthing, Patrick McAlister as Merriman; Luke Robbins as Algernon Moncrieff; Jordan Plohr as Lane; James Morey as Rev. Canon Chausble; Caroline Good as Hon. Gwendolen Fairfax; Macie Rudoff as Cecily Cardew; Spencer Elliot as Miss Prism; and Donovan Bisbee as Lady Bracknell.
If You Go: Seating for Theater productions will be by general admission, though free tickets are required for Theater productions. For tickets contact the Fine Arts Center Box Office by email at boxoffice@wabash.edu; phone: 765-361-6411. Box Office hours are Monday through Friday, 8:30 a.m. to 12 noon and 1:30 to 4 p.m. The box office will open 90 minutes before curtain time. Tickets not claimed at the Box Office 10 minutes prior to curtain will be released to the general public.