The five Wabash senior art majors opened their exhibition Monday night to a large and supportive crowd of classmates, family, and friends. The work of painters Mark Turpin, Jake Huston, Joel Patterson, and Steve Mosier, along with sculpture by Nick Roudebush, will be on display through Commencement.
All four painters all approach the canvas with very different styles, and even the clay-throwing sculptor has a radically different take on kiln-firing his work.
See photos from last Thursday, when the seniors began installing the show.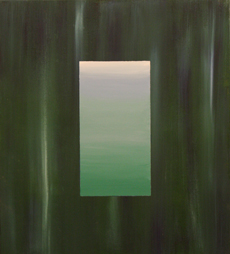 Jake Huston exhibits a series of paintings he's titled "Portals," through which he hopes viewers will wander with their own imagination.
"A portal is a threshold through which transformation occurs," says Huston, who is a member of Sigma Chi from Portage, Indiana. "I allow viewers to use their own imagination to translate the paintings into their own gateways and to discern where each particular portal will take them.
"I present these portals as simple abstractions to illustrate how scale, location, value, and color contribute to the meaning of each portal… it is my intention to guide the viewer to consider the many locations, virtues, and emotional states these portals could allow entry."
Steve Mosier's paintings take the viewer in an opposite direction and he asks us to consider the cycle of life and death. Though vibrant in color and realistic to the eye, a closer look at Mosier's paintings reveals reality — "ultimately, every living organism on earth will die."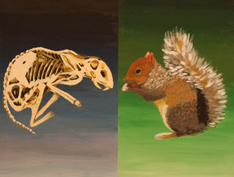 "I think that by considering the harsh life and death cycle in nature, it causes us to think about our own mortality," says Mosier, who is a Phi Delt from Muncie. "As we realize that animals' lives are short, we will also realize that our lives are short as well, and that we need to cherish the life we are given."
Joel Patterson likes numbers. He likes math and equations. He incorporates equations and numbers into his paintings. And he does it on the grandest of scales.
Two of Patterson's paintings cannot pass through the doors of the gallery. They are a compilation of variously sized canvases that are bolted together once they're in the gallery. The scale of two of Patterson's paintings is jaw-dropping.
"Ever since the ancient Greek and Roman cultures, math has been associated with art," says Patterson, who has used the Fibonacci sequence in his approach to art.
"I explore using established mathematical drawings as a cornerstone in my work," says the independent from Granger, Indiana. "The first six numbers of the Fibonacci sequence become proportions for the canvases in each of my works. Each work consists of these canvases arranged in an outward spiral starting with the two smallest frames (each 1 unit x 1 unit) and ending at the largest canvas (8 units x 8 units). In this arrangement, the final dimensions of the work also follow the sequence."
For Patterson's art, it's not about the colors — the arrangement and sequence of the shapes and the canvases drive the viewer's interest.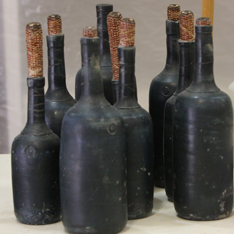 Nick Roudebush has been experimenting with all sorts of sculpture during his time at Wabash. He's recently focused his artistic experimentation on organic materials and more environmentally friendly forms of firing his clay pots.
"My creative process involves forming clay and harnessing fire," says the Cicero, Indiana native who has built his own kilns outside the Fine Arts Center. "Throughout this process, I seek the balance of control and spontaneity. This practice often generates a rhythm that resonates with the cadence of the natural world. My work embodies this rhythm in form, surface, and arrangement."
Instead of using traditional glazes to put a finishing shine on his clay sculptures, Roudebush has gone back to nature to use a vast range of organic materials in the firing process. He's used everything from seaweed to dog food to sunflower seeds. Roudebush has also used recycled materials to build his kilns, and uses only scrap wood to fire them — all in an attempt to lessen his carbon footprint.
"My ceramic work becomes a visual attempt to offer some guidance in understanding the inexplicable flow of the natural world, while at the same time only shrouding it in greater mystery," adds Roudebush.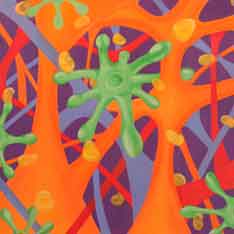 For Mark Turpin, his chemistry minor and pre-med focus comes through brightly in his vivid abstract paintings. Or are they abstract?
"By looking at the artistic representations juxtaposed with the scientific presentation of the body, one can indeed see the innate duality of artistic beauty within us," says the Delt from Evansville. "In my series, I wish to look at alternative visions of anatomy and science by abstracting our physiology."
Turpin says that 20th century technology has given us an up-close-and-personal look at what lies beneath our skin. "Despite these advances, however, the whimsical and ambiguous facets inherent in our amazingly complex biological systems still remain," he says.
Turpin is headed to Houston to do an internship with an OB/Gyn physician next year. For now, though, he hopes to challenge people with his painting.
"By looking at our biological organs, tissues, and muscles combined with the aesthetic and artistic composition of such properties, the viewer is introduced to their own intrinsic natural splendor."
The 2009 Senior Art Majors Exhibition runs through Commencement. Admission is free and the galleries are open during regular business hours.