Name: Jacob Surface
Major: Political Science
Minor: Spanish
High School: North Montgomery (IN)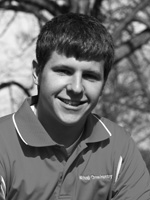 How would you characterize your Wabash experience?
My Wabash experience has been a whirlwind of work and opportunity. There is no doubt that you can accomplish anything at Wabash, but it requires effort to make things happen. From pledgeship to my first season of cross country, immersion courses to trustee dinners, you must be willing to put in the work to reap the rewards. Everyone at Wabash must strive to ensure the viability of our College and our mission to educate men; it is from this that we pull the overarching thread that pulls this school together. Only through this kind of effort can we accomplish our main goal as students, faculty, and staff, which is to graduate men who will have a positive impact on their world. My Wabash experience has been characterized by this continuing endeavor to fulfill my potential as a young man through the chances and challenges put forth by this College.

Has Wabash had a life-changing impact on you, and if so, how?
Wabash has absolutely had a positive impact on my life. I have grown from a frustrated boy into a content young man and continue to find myself growing mentally and emotionally. Wabash has helped teach me that there are different ways to reach fulfillment and that one must find happiness from within by doing good things for others and pursuing one's passions. Through Wabash I have seen the world and met the most inspiring people. My ideas continue to be challenged while I develop the type of meaningful life philosophy that will guide me after graduation. What's more, Wabash has taught me what it means to be loyal. From the examples set by alumni all over the world and by the investment the College has made in me I realize that there is a loyalty that pervades this institution. Without this loyalty, Wabash would be a very different place.

How has your participation in athletics enhanced your time at Wabash?
Athletics have shown me what it is to be mentally and physically tough. My experiences running on the cross country and track teams have given me the kinds of adversity that forced me to make the choice to break through or give up. I haven't always been successful, but I have learned valuable lessons about the type of man I can become from my difficulties. In many cases, my teammates are the closest friends I have. The bonds I have developed on 13-mile runs with these young men have been paramount to my happiness at Wabash. Meanwhile, a difficult paper or tedious reading assignment seem to pale in comparison to the 5-mile races that face me early Saturday mornings. Athletics add a perspective on the challenges of Wabash that has allowed me to rationalize why it is important to put in the effort to perform and achieve to the best of my ability in the classroom and on the track.

Community service has been a big part of your Wabash experience.
I came from a very middle-class background. Yet, I knew students who had trouble scraping together money for school supplies and books. How could I see their situations and not want to help? Whenever I feel dejected, I try to realize that there is someone out there just like me who is not getting the opportunities that I have. That is my motivation. I feel that I have been extremely fortunate in the opportunities and resources that have been presented to me in life, especially here at Wabash. My parents didn't have a chance to attend college and certainly didn't have the resources to pay full tuition for me to get a Wabash education. My experiences here in the classroom, especially my freshman tutorial, and as a student of a College that vows to live humanely, have fanned the passion for philanthropy that I entered with. Wabash continues to give me the tools for self-improvement, education, and priceless experiences.

Which faculty and staff have had a profound impact on you?
Dr. Redding helped me to develop a new life philosophy. His teachings of Kurt Vonnegut's novels in my Freshman Tutorial helped me to grasp a more humane way of living and valuing my fellow man. Our relationship has extended well past the classroom; he is now my faculty advisor and shares an interest in running at Wabash. Dr. Mikesell taught me that "Life is nothing but a series of choices." I have made it a point to take his classes in comparative politics for the challenges that he offers in class discussion on readings and current events. He has written numerous recommendation letters for me and is keenly interested in what's going on in my life each time I see him on campus. Jim Amidon told me that "It will be very tough and you won't see the light of day for awhile, but it will pay off." Jim has been a mentor and a friend with priceless advice and insights on this campus. He caught my interest in philanthropy early freshman year and has supported my efforts to effect positive change both on campus and in the local community.

Wabash alumni set an example for you, right?
Four of my high school teachers/ coaches were alumni. I made my decision to come here based on the way they conducted themselves and dedicated themselves to their teaching and their families. They are very admirable men who taught me life lessons in leadership, learning, and work ethic. I knew that I wanted to be a part of that group. It's always inspiring to hear of the different paths that Wabash Men have taken after graduation. Whether biking across the United States, teaching, or becoming prominent leaders in business, every alumnus has something to offer. My discussions with them often serve as assurance that there are bigger and better things to come and that I can use my education however I see fit.

What's your sense of the philanthropic tradition at Wabash?
Frankly, I would not be here without the money that alumni donate each year. What is most compelling, however, is the manner in which Wabash Men continue to serve after they have graduated. From being a philanthropy chair, I know how difficult it can be to get people to participate or volunteer. The fact that we have so many alumni come together for WABASH Day every year is a testament to the kind of positive elements of liberal arts education that are being instilled by our Alma Mater and to the lasting bond that is formulated through the experience of this College.