Name: Patrick McAlister
Major: Political Science
Minor: History and Theater
High School: Carroll (IN)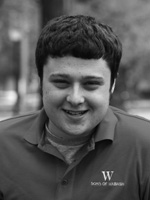 How would you characterize your Wabash experience?
Wabash reinforced my belief that a good life is led by someone who is liberally educated and has diverse interests. In addition to majoring in one of my passions (politics) I am encouraged to continue to pursue my other passions (acting and journalism). While these interests may not translate directly into a career, I am more confident going out into the world knowing what I like and forming those interests into a career rather than accepting a job simply because that's what I trained for in college.
How has your participation in student journalism enhanced your time at Wabash?
Serving on The Bachelor staff has given me a unique perspective in understanding what happens at the College. Most of my friends can't believe that a school of around 900 can manage to put out a weekly newspaper with the depth of reporting we usually do. We could not print the number and quality of articles we do without an active and engaged student body. I also firmly believe that liberally educated students are better journalists than those who study specifically journalism. Writing a good newspaper article requires someone who can think well and tell a story clearly and concisely. These are attributes of Wabash men. Continued alumni support for an institution like The Bachelor allows such men to further develop these characteristics.
You've traveled the world on Wabash's dime; explain those experiences and what they've meant to you:
Europe would have been out of the question for me without Wabash. By the end of this school year, I will have gone there twice. In the fall, I went to Paris with Dr. Rhoades for a history course. Over Spring Break Dr. Mikek and Dr. Hollander took my class to Frankfurt and Brussels for a course on the European Union. Courses like these represent Wabash at its best – giving students the opportunity to see what they read and apply what they learn. I cannot think of a better way to study the history of France than exploring Paris' myriad museums, monuments, and sites of historic importance. Similarly, I cannot think of a better way of attempting to understand the intricacies of the European Union than actually visiting the institutions themselves. These immersion learning experiences provide students with a connection to the subject matter not matched by just reading about those places.
Has Wabash had a life-changing impact on you?
Wabash has allowed me to see the world in a way most guys my age never can. Immersion trips, grant money to live and work in DC, and the diverse speakers that are brought to campus allow a kid from Indiana with modest means like me to see the world.
Which faculty and staff have had a profound impact on you and why?
In addition to the faculty in my major, as a double minor I've been fortunate to develop strong relationships with many other professors on campus. My academic adviser, Dr. Michelle Rhoades, has had a huge impact on my life. I've also developed a friendship with a professor I've never had in class – Dr. David Blix. When The Bachelor ran an editorial critical of the current model for C&T, Dr. Blix asked me and another student to come by and talk about our issues with the course. Dr. Blix heard our problems with the course, and took our suggestions in crafting the new C&T module. He thanked both of us for our input in the introduction in the C&T binder every sophomore is required to purchase for the course. I couldn't think of another place on earth where such a friendship could develop. One staffer that has had a huge impact on me is Bachelor Advisor Howard Hewitt. Howard's 20-plus years in the real journalism world have helped The Bachelor become the quality newspaper it is today. From managing the staff to educating Bachelor guys on important practices of journalism to teaching basic design concepts, Howard's expertise and ability to teach students has made The Bachelor one of the best student papers in the state.
You've met a number of alumni during your time on campus. What has that meant to you?
Over the past three years I've had the opportunity to interview and write profiles about quite a few alumni from many different fields – government lawyers, computer programmers, theater set designers, private equity partners, actuaries... the list goes on and on. While our conversations may have differed wildly, all of the interviews ended roughly the same way – they'd give me their contact information and told me if there's anything they can do to let them know. For the active alumni I've met that is a common thread – alumni help other Wabash men get their foot in the door. No Wabash man should ever expect to get a job simply because they're a Wabash graduate; if they are qualified for the position, however, alumni will help to get them positioned to succeed. Once I graduate, these initial contacts and connections are going to make a difference in my career trajectory.
Beyond seeing names on buildings, what's your sense of the alumni philanthropic tradition at Wabash
I find it incredible the commitment alumni have to broadening student horizons. Although I do appreciate the bricks and mortar of our campus buildings, I am especially thankful for the opportunity to travel to other countries as a part of my coursework. These programs are what set Wabash apart; I have friends at other institutions all over the country who are incredibly jealous of my opportunities. While they may have a chance to study abroad, they usually have to do so at significant cost to themselves.