Name: Kyle Hayes
Major: Biology
Minor: Chemistry
High School: Central Noble (IN)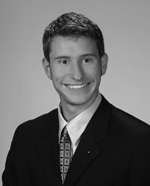 How would you characterize your Wabash experience?
To date, I would characterize my Wabash experience as an education that has equipped me with the tools necessary for lifelong learning. It has been fostered through relationships not only with faculty and students, but also with numerous alumni.
Has Wabash had a life-changing impact on you?
Wabash has definitely had a life-changing impact on me. There are many opportunities to excel at Wabash and everyone connected to the Wabash network challenges you to do so. It is evident to me that a direct result of this is the attainment of the school's mission statement. Through my Wabash education, I have truly learned how to think critically, act responsibly, lead effectively, and live humanely — and know that these will continue to be guiding principles in my life.
You traveled to the Galapagos Islands on an Immersion Trip. What did that mean to you?
The trip to the Galapagos Islands really helped to supplement the instruction I have received in the classroom at Wabash. It is really amazing to have a hands-on experience in biology that cannot be paralleled. Beyond all of this, the introduction to another aspect of Ecuadorian culture and eco-tourism was a real eye-opener. The experience has made me more aware of what is happening throughout the world.
You are a pre-med student. Are you ready for medical school?
Having a pre-med focus at Wabash has done great things to make me feel prepared for medical school. Many physicians that I have met express that the education received at Wabash and the leadership roles that students take on really aid the learning process. The support from faculty and alumni has been more than I could have asked for. I was able to intern with Todd Rowland '85 and really get some good exposure to medicine and was written a letter of recommendation not only by Dr. Rowland, but also by a member of the Board of Trustees, Ted Grossnickle '73.
Which faculty, staff, or coaches have had a profound impact on you and why?
Almost every member of the faculty and staff that I have worked with has had a profound impact, but if I had to focus on one, I would say Professor David Krohne. He is my advisor and I have taken ecology, evolution, and an independent study with him. He, along with Professor Dan Rogers, took us to Ecuador and is really willing to help with anything that he can. I think he is a good example to Wabash men and a phenomenal professor.
As a member of the Sons of Wabash, you've had the opportunity to interact with a number of alumni. How has that involvement made a difference in your life?
The relationships I have formed with different alumni have provided many opportunities for me. I see that involvement having a profound impact on my experience at Wabash and on my future and know from these interactions that I will do my best to be an involved alumnus.
What's your sense of the philanthropic tradition at Wabash and how have alumni contributions made a difference in your time at Wabash?
I think the sense of alumni philanthropic tradition is best shown through the events we have on campus. I know from my time as a Rhynie that alumni do very well to give to every cause that we pitched. As a member of a Lambda Chi Alpha, I know that alumni from our house have done a lot to provide us with funds and labor to repair our house. The alumni philanthropic tradition is alive and ever-growing at Wabash College.