Name: Gary James
Major: Rhetoric
Minor: Political Science
High School: Southeast Lauderdale (Mississippi)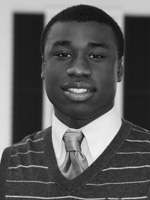 How would you characterize your Wabash experience?
My experience at Wabash has been one long schedule of activities that never seems to end. But, underneath all the activities is character building and self-actualization. With a few exceptions, the activities I was involved in as a freshman, I no longer do. At Wabash I have been encouraged to get involved in a way that doesn't just keep me busy, but actually makes a difference in the community. If students are willing to put in the time, Wabash helps young men become the gentlemen they can be.
Has Wabash had a life-changing impact on you?
Yes, in a way. Even though I have always had good grades, and my parents definitely planned for me to go to college, there was always a mental block for me. Most of the people I grew up around did not go to college. It's just a fact. Wabash not only removed that mental block, but is helping me realize what I want to do after Wabash. With The Bachelor, the Schroeder Center, and alumni who help make everything possible, I feel I am on my way to being someone whose efforts can help push our country into the future, even if it's just in a small way.
How has your participation in journalism enhanced your time at Wabash?
My participation with The Bachelor has been the best non-classroom learning experience I have had at Wabash. Because Wabash is a residential college, and success here depends on getting involved, journalism has enhanced my education by allowing me to experience the College in so many different ways. Even though I'm not on the football team, I had the chance to sit down and gain insight into the life of our quarterback, Matt Hudson. Even though I have never done theatre, I've been backstage to interview cast members for "Never the Sinner" as they transition from the students we all know to the actors we all love to watch. And even though Wabash does not have a "journalism program," I do not feel like I am learning anything less. With staff members who push us to do great work, a Bachelor staff that wants to make a difference, and a small but active campus to report on, I feel I have a journalism program — not confined to a classroom or department — but a collection of experiences I will take with me long after I graduate.
Which faculty and staff have had a profound impact on you?
The great thing about living at a residential college and a great thing about Wabash are the relationships one builds. Rhetoric Professor Todd McDorman has had a profound impact on me academically because he helped unlock my curiosity, which extends outside academics. I have had at least three classes with him, and in each one I learn something new about how to go about investigating the messages we all see around us everyday. He was also the deciding factor in my choice to participate in the Celebration of Student Research this year. Director of New Media Howard Hewitt has had a profound impact on me in other ways. He is the faculty advisor for The Bachelor, and he has helped me hone my writing and reporting abilities. As a mentor he pushed me and devoted his own time to my professional development. I think the influence that people like Prof. McDorman and Mr. Hewitt have on students shows how close the Wabash community is. I think that closeness is a positive aspect of the College because it means learning goes on all the time, not just when classes are in session.
You've been involved in community activities and local politics while at Wabash?
While at Wabash I was a close advisor to Independent Mayoral Candidate Jacob Hurt, a volunteer for Congressional Candidate Nels Ackerson, and the County Coordinator for the Obama campaign. I am also a college mentor for third graders. However, these experiences were about more than the candidates. They were about improving the community where I lived. I called hundreds of people and knocked on hundreds of doors. I spent countless hours with strangers who became neighbors, and talked about issues ranging from cracks on the sidewalk to health insurance. The thing that struck me the most during these activities was how the Crawfordsville community wanted to relate to the College. They want to see Wabash guys playing a constructive role in the community, and they want to work with us to make our community better.
As a member of the Sons of Wabash, you've had the opportunity to interact with a number of alumni. How has that involvement made a difference in your life?
Alumni are the backbone of the College. They are the major donors. Some are faculty; some are staff . They reach out to students in a very real way, and it's because Lee Cline reached out to me in Fall 2005 that I decided to go to Wabash. I didn't have much direction when it came to college. Mr. Cline invested a lot of time with me and my family. He reassured us, and he helped my mom feel comfortable sending me hundreds of miles away. Now I have opportunities that will make a difference for my future, with The Bachelor, a summer internship, and relationships I have forged.
What's your sense of the philanthropic tradition at Wabash?
When I think of Wabash alumni and Wabash's philanthropic tradition, I think of those times of the year when the Wabash community comes together. I think of Homecoming and Monon Bell; WABASH Day and Big Bash; Ringing In and Ringing Out. Those traditions are about more than the events themselves; they are about more than football, or a bell or a particular incoming or outgoing class. It's about the commitment that loyal Sons of Wabash have for their Alma Mater and for each other. It's about alumni like Lee Cline who scour newspapers to see if there are young men whom Wabash could help and who could help Wabash. It's alumni like Greg Castanias who have embraced tools like Facebook to stay in contact with new generations of Wabash Men, who open their homes and offices to us and counsel us. These have been my own experiences with Wabash alumni and traditions, and I hope to help extend them to the next generation of Wabash Men.