Name: Seth Einterz
Major: Philosophy
Minor: Physics/French
High School: Zionsville Community (IN)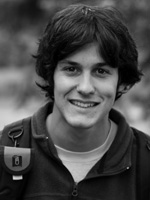 How would you characterize your Wabash experience?
In a word: personal. Perversely, I think it has taken tragedy to help me realize how attached I am to this school on a visceral level. I have relationships with faculty, fraternity brothers, and teammates that I could not have imagined were so tight until I've dealt with their loss.
It was a harsh epiphany, but a precious one.
Has Wabash had a life-changing impact on you?
Maybe alumni have the perspective necessary to see how Wabash has changed their lives. I still cannot see the whole show. But I catch moments, little snapshots that hint at the grand picture. Coach Morgan pulled the track team into a huddle today, and he burned us with his low voice, saying: "It's a great day to feel the blood running through your veins!" Maybe in ten years I will realize how my life changed in college, but today I concentrate on the blood running through my veins.

How has your participation in athletics enhanced your time at Wabash?
There is no sensible reason to endure such pain as the last mile of a cross country race, except that you run for more than yourself. You run for your teammates, your peers, your alumni: the entire community of Wabash. So participating in athletics has given me the opportunity to struggle for my college, and it's hard not to love something once you've poured so many gallons of sweat into its most honored name.

Which faculty, staff, and coaches have had a profound impact on you and why?
If I tried to answer this question, I would be 20 pages in before I looked up for breath.

How has this ability to get involved in so many things made your Wabash experience special?
Wabash students have an essential, defiant spark that makes them a part of this brotherhood; but they use this spark to light a majestic diversity of fires. They come together in the Allen Center locker rooms before the big meet, or exchange jokes backstage of Ball Theater on the opening night of a show, or they rush through the Armory computer lab as they scramble to beat the press deadline. And I've had the great privilege to be there, to see this scarlet fire consume my classmates. Again, it's in the moments: Wes Chamblee exploding over the final hurdle to win NCACs; Matt Goodrich outshining the spotlight on closing night; Jacob Stump finally collapsing into a chair with that burning, helpless anxiety as we wait to see how the campus responds to an issue. That's made my experience special, seeing how all these parts fit together to make Wabash what she is.
Have there been alumni whose involvement with you made a difference in your life, and if so, how?
My dad, of course, has radically shaped my life. I've tried to pretend that I pledged Kappa Sigma because my friend did, but I think that both my dad and I know that I did it for the same reason that I chose Wabash in the first place. Sometimes, even if I never can, I still want to be just like Dad. Apart from that, I am re-overwhelmed in odd moments by the simple but constant support I receive from alumni. Every time I return home and go to church with my family, Anthony Hart '87 wanders over and asks me if I'm keeping my grades up or if cross country went well. Small things make differences. They add up. In demonstrating the deep care for a people and a way of life, these alumni have modeled the good life.

Beyond seeing names on buildings, what's your sense of the philanthropic tradition at Wabash?
I often explain that I was attracted to the school by the personal attention from teachers and faculty, which is true. But the teachers tipped the scales only after scholarship offers had leveled the playing field. If I am usually embarrassed to admit my economic motives, I imagine that it is a hard truth that will continue to hover over high school seniors in the midst of a recession. I could have answered this question with the incredible wealth of opportunities available to me as a student, but everything else is worthless if the right student is being lured away by schools with better scholarships. When elite schools like Princeton set groundbreaking precedents of student aid, and state schools like IU continue to attract top students through incredible merit scholarships… I only hope that Wabash will be able to compete. I hope other students get to share my experience. God forbid that some poor senior lands in Greencastle because the Dannies offered him a more affordable education.